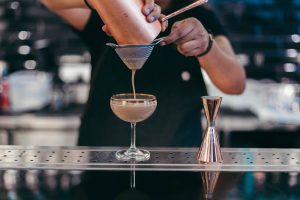 The USBG National Charity Foundation (USBGNCF) Board Member and Director Kim Haasarud gave the third weekly Instagram Live update on the Bartender Emergency Assistance Program (BEAP).
The big news is that the USBGNCF has now dispersed $2.7 million in grants to date—with $700,000 going out in just the last day and $1.2 million in the last week alone. At press time, the Foundation had $8 million in committed donations from over 4,000 donors. Haasarud says this also means that the Foundation will run out of money more quickly, and so they are still actively fundraising and soliciting donations to meet the needs of the bartending community.
The speed at which applications are processed and disbursed has increased thanks to an automated form and a crew of over 500 volunteers who have dedicated 10,000 hours to vetting applications. "I think it's a testament to how far we've come," said Haasarud.
While the automated form has allowed USBGNCF to make the vetting process faster, Haasarud acknowledges that the form itself has been troublesome for some applicants, who are used to conveying information through customer service in one-on-one interactions and not through data entry. "As a result of that, there are a lot of errors on applications," said Haasarud.
Haasarud acknowledges these challenges, but emphasizes there is no other way to vet the over 295,000 applications the Foundation has received to date. View the applicant FAQs before submitting to be sure you input and include everything you need. On a positive note, Haasarud said that recent applications have included fewer errors.
These errors are often times the reasons that applications are not accepted. Haasarud said that the total percentage of applicants that are found to be ineligible and have been rejected because of ineligibility is less than 1%. Eligibility requirements include:
You are in the business of service and production of alcoholic beverages
Bartending is your primary occupation
You have been employed as a bartender for at least a year
You have no vested interest in an alcohol license
You can view the full eligibility requirements here.
Haasarud also reminded applicants that grants are not dispersed first come, first serve, but rather based on immediate, demonstrated need. Once you apply, you can check the status of your application on Submittable where you can also manage the application and withdraw it.
After submitting, if you have not received a confirmation email, check your junk folder, search for "BEAP" in your email folder, and double check the email address that you used to apply.
Haasarud also addressed criticism the Foundation has received about favoring higher-end bars with relationships to donors. Haasarud says this is not the truth. First, it's illegal, and secondly, the Foundation doesn't even have the capability to search by bar or account name. She said the Foundation has received criticism on the other end of the spectrum as well and has been told it's casting too wide of a net by accepting bartenders from any business or industry.
Above all, the USBGNCF reiterated its commitment to provide help to those in the bartending community with immediate, emergency needs.