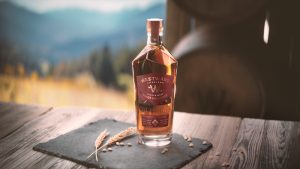 Westward Whiskey, single malt reimagined in the American Northwest, proudly celebrates the launch of its third permanent expression – Westward American Single Malt Pinot Noir Cask , which joins the original Westward American Single Malt and Westward American Single Malt Stout Cask. All three expressions are now available nationwide, with a stunning new look, which includes a stunning custom bottle design and logo that pays homage to the whiskey's Northwest provenance and indelible link to the culture, climate, and natural ingredients of the American Northwest.
Westward American Single Malt Pinot Noir Cask is a truly elegant whiskey, influenced by Oregon's premier grape varietal: Pinot Noir. This blend of cask-finished whiskeys is created in partnership with a handful of iconic Willamette Valley producers, including Bergstrom Wines and Suzor Wines, among others. The spirit reflects the vibrance of the winemaking region's signature grape while allowing the bold, robust notes of the whiskey to shine. Westward's Pinot Noir Cask begins with original Westward American Single Malt, which is made from scratch using Pacific Northwest two-row barley, brewed with American pale ale yeast for outstanding flavor, double pot distilled for exceptional character, and matured in 2-char, kiln dried 53-gallon new American oak barrels. The whiskey is then finished for up to two years in French Oak wine casks that previously held Pinot Noir. It is bottled at 90 proof (45% ABV) and priced at $89.99.
At Westward, great reverence is given to the resources found naturally in the Northwest. The abundance of the region gives Westward both the best raw materials and the best craftspeople. Westward is proudly handmade by a collection of world class distillers, each of whom follow their 'True Northwest,' a rally cry now featured on the new bottle design, as they draw inspiration from the region's majestic surroundings and pursue their ambitions as artisans and whiskey makers at the Westward Whiskey Distillery in Portland, Oregon. Westward's new visual overhaul is a tribute to this sentiment, and the cuts and edges reflected in the bottle mirror the raw beauty and dramatic mountain ranges found in the American Northwest, Likewise, the new, angular label is designed to reflect the mountain peaks of Westward's origin and capture the craftsmanship that goes into perfecting its whiskeys every day.
"At Westward, there are no shortcuts, and therein lies the beauty. We pursue perfection by raising a world class whiskey through our long, slow, process," said Thomas Mooney, CEO and Co-Founder, Westward Whiskey. "Today, we celebrate the culmination of a project we have worked on for the last two years. Our new custom bottle and design expresses the uncompromising spirit of the American Northwest, and they represent Westward's meticulous devotion to our process, culture, climate, and ingredients. We're thrilled to introduce a new, elevated visual identity that further highlights the beauty of our award-winning whiskeys."
Westward's new visual identity and packaging was developed in collaboration with Pearlfisher, an award-winning design agency. The company's enthusiastic group of creatives worked diligently to capture the essence of Westward and its commitment to quality.
As part of this redesign, Westward has also unveiled a new brand home at WestwardWhiskey.com. In addition to a robust shipping capability throughout Westward's home state of Oregon, the company's portfolio of award-winning whiskeys will now be able to ship nationally directly through the company's site.