With unparalleled noise reduction and the ability to create the smoothest blends, The Quiet One® by Vitamix® has earned a place in the most popular coffee shops, high-end bars and restaurants around the world. Now, The Quiet One by Vitamix Commercial blender exudes an enhanced aesthetic with added features that make it easier to clean and maintain.
With other professional blenders, preparing multiple servings of blended beverages like smoothies, frappes and frozen drinks can be distracting for guests and disruptive to business. Thanks to its unparalleled sound reduction technology, The Quiet One ensures an enjoyable front-of-the-house atmosphere, while providing exceptional blends to serve large orders even quicker than before.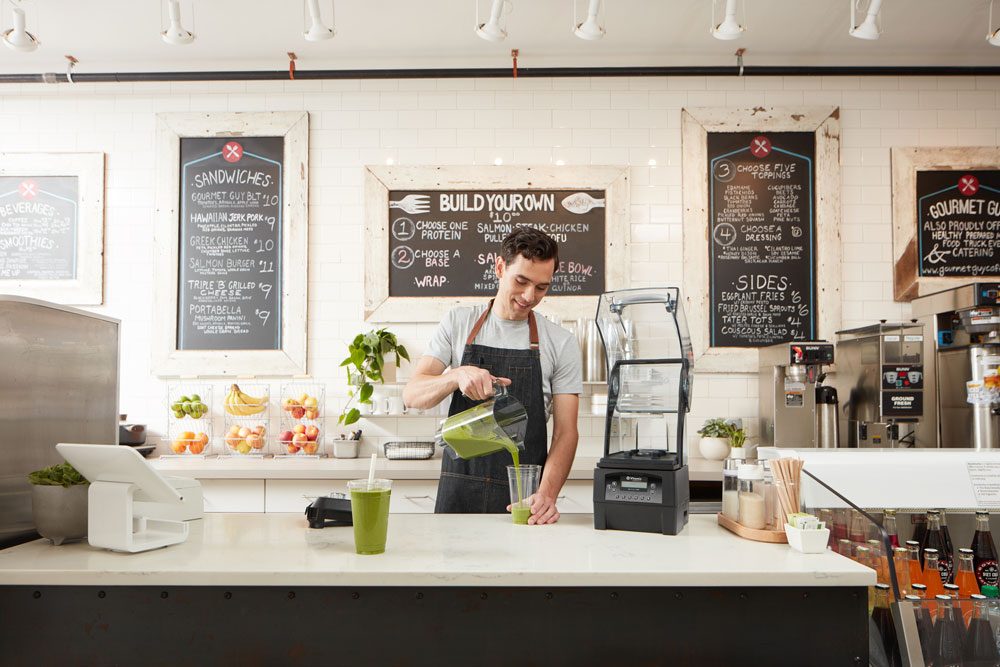 Additionally, the best-in-class machine is easier to clean, thanks to a larger centering pad and a new, easy-to-remove Twist Lock sound enclosure. Its new Advance® blade operates quietly and creates premium blends while improving container life, as well as a lower total cost of ownership. On top of that, The Quiet One has a chic, new faceplate, with brushed stainless detail and square optimized program buttons, so it even looks better!
Other notable features of The Quiet One include:
A powerful 3 peak output HP motor and advanced air management system to ensure the machine remains cool even when executing the most difficult blends, for minimal downtime
Six optimized programs, 34 settings, 93 variable speeds and automatic shut-off
The ability to create custom blending programs for signature drinks, smoothies, and blended coffees
Four new programs optimized for use with the Aerating Container (sold separately) allow users to master classic culinary techniques in minutes, including whipping, emulsifying, muddling, and creating foam
Advanced vibration dampening technology for a more enjoyable atmosphere
A large, 48-ounce Advance® Container with a unique shape and built-in dripless spout for faster blends and cleaner, faster pours
"For nearly a century, Vitamix and its products have represented strength, durability and resilience, producing high-powered blenders that are built to last," said Lisa Klein, vice president, Global Commercial Sales, Vitamix. "We know that our customers' needs are changing, and we're dedicated to developing blending technology chefs and mixologists can rely on as they work to sustain, transform and grow their businesses."