Todd & Abby introduces for the first-time high-quality sparkling wine on tap to the United States. Abigail Doyle and Todd Henderson, Todd & Abby partners, "We saw a need in the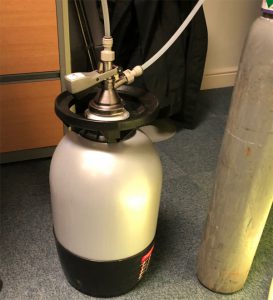 market for high quality sparkling wine without wasting space and wasted wine due to product going flat," adding, "this process does not need special equipment or any additional instruction."
The sparkling wine comes by the barrel with each keg containing 160 glasses of lovely ready-to-drink bubbly. There are no bottles to open and these kegs are environmentally-friendly disposable.
According to Doyle, "Sparkling wine is very much in vogue often out selling pricey Champagne. It is more affordable, and it doesn't need to be a special occasion drink, it's far more fashionable than Champagne and many would say it tastes better! We are offering high quality fine sparkling wine in 20-liter non-returnable kegs. Once opened the keg has a 4-6 weeks shelf life and runs through your existing system."
No waste on half sold flat bottles
Easy to install
Makes many great cocktails
Unique selling point to your customers
Easy to serve
Fantastic profits
The end distribution gives an $8 to $10 per serving sales price
One weekend in July 2017, while sitting on the back porch of the Deer Mountain Inn in the Catskill Mountains during a torrential downpour.  Todd & Abby needed an escape from the city and were pining for a new adventure.  Todd said "We need to work together."  Abigail said "Definitely!"  After 20 plus years in the luxury home furnishings industry for Todd and 25 years in the restaurant business for Abigail, they thought they could put their combined 45 years of hustle and bustle together to do something new.  Wanting something fun, festive, and fizzy!  A love of bubbles led them to a revolutionary product – sparkling wine in a keg.  Todd & Abby is convenience and conviviality in a glass, and now they are excited to share the bubbly with the world!  Cheer's to friendship, good times, and great wine.