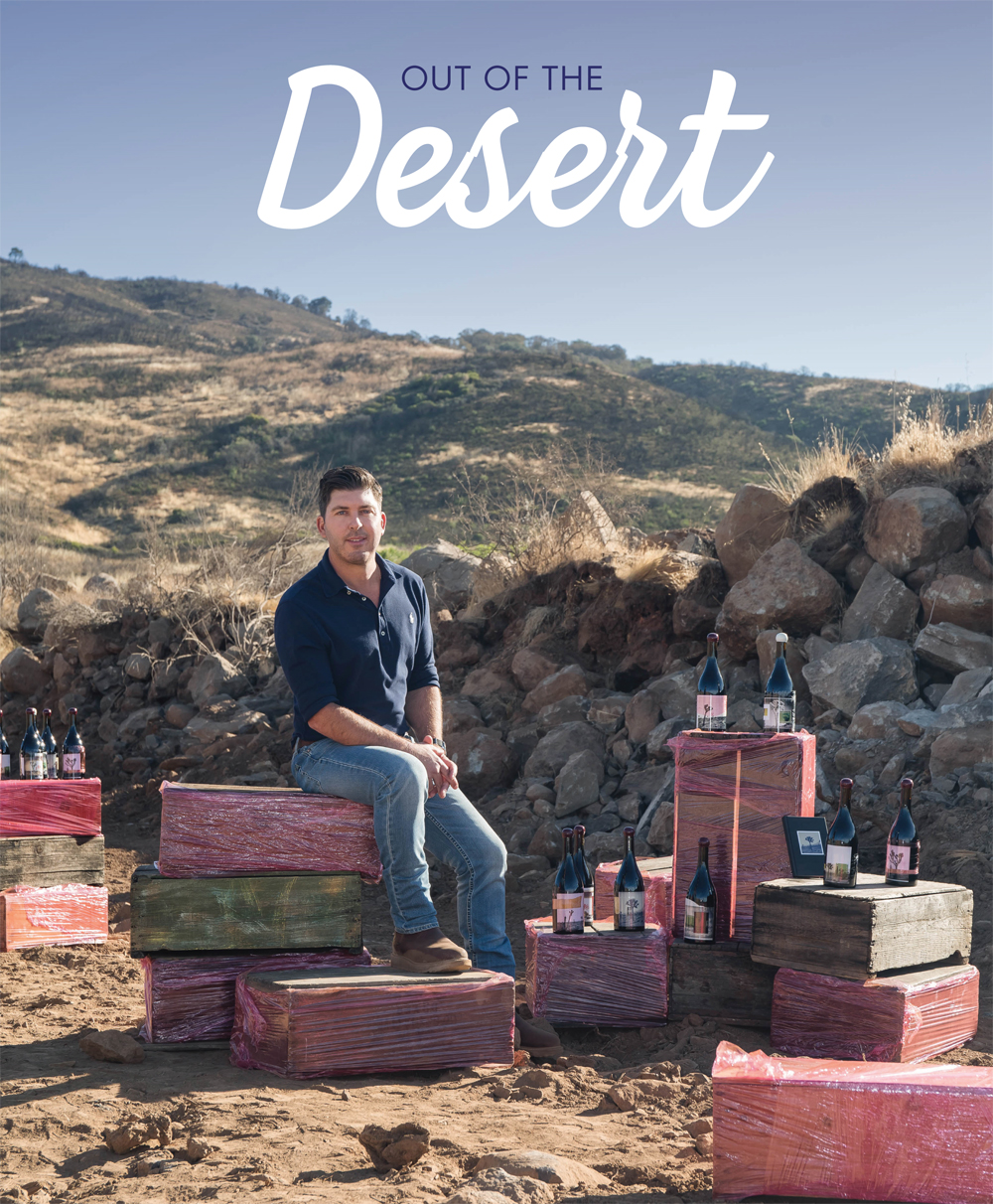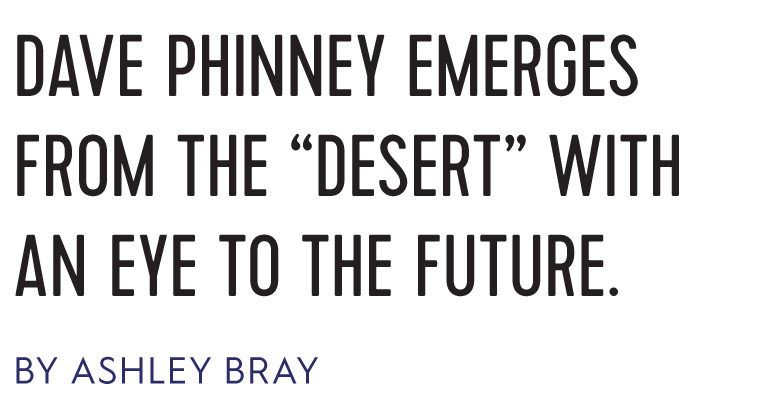 The word "desert" has two meanings. The first refers to a barren wilderness, and the second means to leave or abandon. Both definitions can apply to 8 Years in the Desert, the latest release from winemaker and all-around maverick Dave Phinney.
Phinney spent the last eight years wandering through a sort of metaphorical desert as he worked on this latest wine release and the items that accompany it—a book of short stories and a painstakingly created group of eight handmade labels. He emerged on the other side of his journey with a new Zinfandel blend—his first return to the varietal after abandoning it almost a decade ago. Phinney calls the project "the most personal of any I have undertaken."
"I've never made a wine that I actually like because there's always something we could have done better," he says, admitting that years of experience have helped him to hone his craft and build a network of connections to better vineyards. "It's an accumulation of basically 20 years of experience. I would like to think we've gotten better at what we do.
"I always say there's a thousand things you can get right or wrong from when you plant the grape vines to when you bottle the wine. Well, now I have more time to try and get as many of those thousand details as I can right."
The start of Phinney's career in wine can be traced back to a study abroad trip to Florence where he discovered the art of winemaking. After that trip, he pivoted from a political science major, secured an internship in the Agricultural department, worked in a retail wine store, and tried to get as much exposure into the world of wine as he could. When he graduated, he landed an internship as a temporary harvest worker at Robert Mondavi Winery and worked on his first harvest in 1997. The work was demanding—both physically and mentally—and Phinney knew in order to continue he needed to be working for himself. He founded Orin Swift Cellars, created The Prisoner (a unique Zinfandel blend), and never looked back—until now.
8 Years in the desert
8 Years in the Desert is a blend of Zinfandel, Petite Sirah, Syrah, and small percentages of other red varietals. It launched on October 1 and is being distributed through Orin Swift Cellars, which E. & J. Gallo Winery purchased back in 2016.
"It was a sale on paper, but it's very much a partnership," says Phinney of his relationship with Gallo. "They've got an amazing organization, and we're working on a lot of other ideas too. It's hopefully going to be a lifetime partnership."
One of those new projects is still under wraps, but Phinney said it involves a high-end Pinot Noir brand with luxe packaging to match.
Phinney brings the same painstaking attention to detail to packaging as he does to winemaking. For 8 Years in the Desert, he created eight different mixed media labels that were inspired by a book of short stories he spent the last eight years writing. "One of those labels is six different labels layered on by hand, and then they're all wrapped in red Saran wrap, which is part of the label," he explains. "I don't look at it as labels. I'm trying to get as close to fine art as we can."
Unique labels like those of 8 Years in the Desert obviously appeal to consumers searching the shelves of their local liquor store, but Phinney believes that branding and aesthetic appeal can help sell wine in on-premise venues, as well. "I don't think it hurts if you order a bottle, it comes out, and it's a beautiful label;
it just kind of puts the cherry on top," he says. "We've had some restaurants that actually have printed the label
on the menu."
A limited-edition box set of the first edition of his book of 13 short stories, along with eight bottles of 8 Years in the Desert's 2016 debut vintage featuring labels 1-8, launched on October 1.
The set is meant as a must-have for collectors, but Phinney wants the wine to be available to everyone—including on-premise accounts. So one label each year over the next eight years will be released starting in October with label 1, the 2017 California Red Wine. A number of hospitality groups have already committed to bringing it in-house.
The 2017 vintage includes heady aromas of brambly raspberry, black fig, and peppercorn. Time in the glass exposes more flavors like dark chocolate, fennel, and High Sierra forest floor. The palate is lush and opulent with blackberries, dark plums, and currants. More flavors add to the quality of the blend—a visceral minerality and fresh Herbs de Provence. Fully integrated with puckering tannins, the wine bows
out with finesse.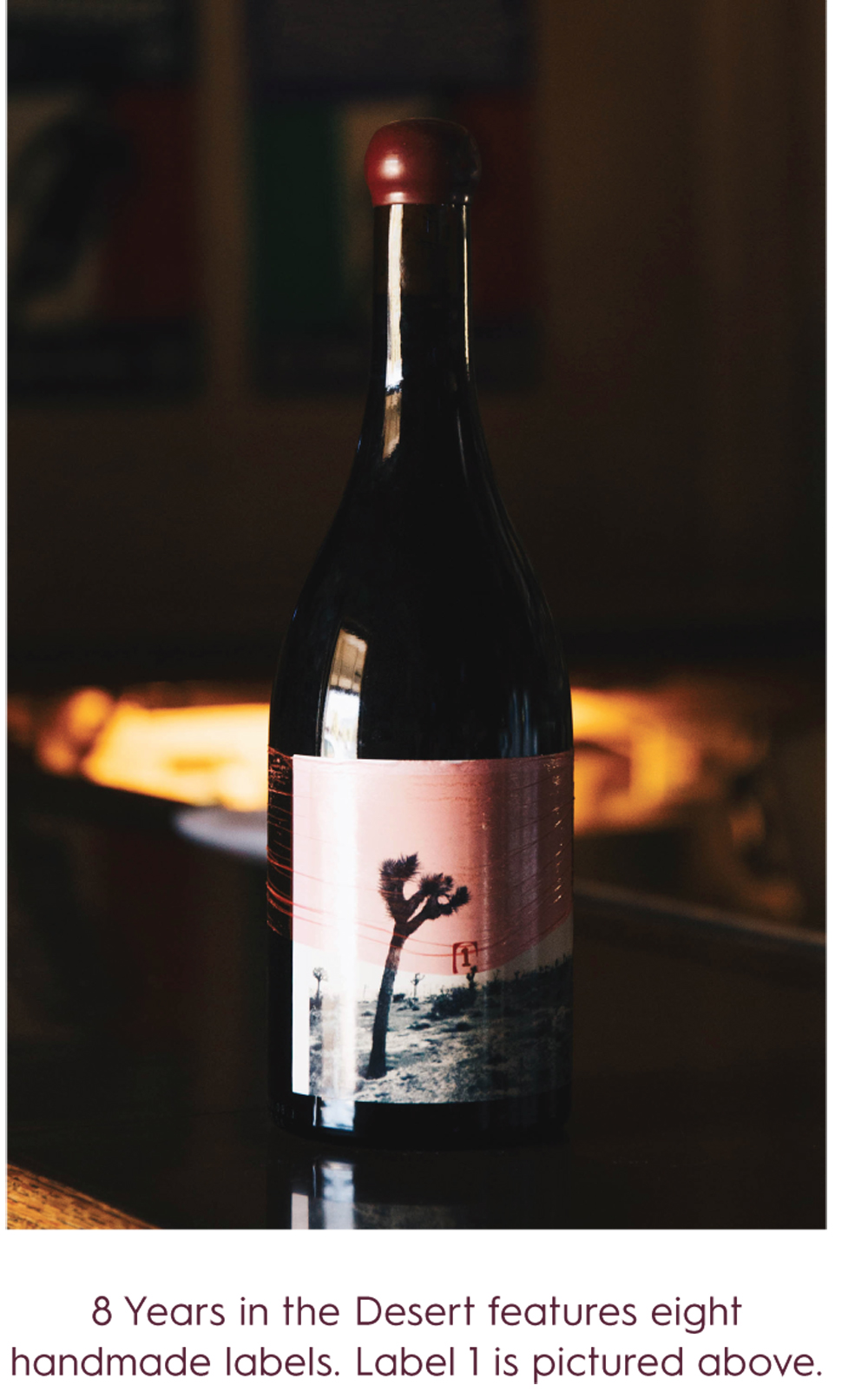 Locations
8 Years in the Desert isn't Phinney's only release in recent years. He also put forward "a maverick wine concept" called Locations, which blends across appellations to create wines that
truly reflect their country of origin.
Also distributed by E. & J. Gallo,
the Locations series includes a variety
of wines that represent different countries like France, Italy, Portugal, and Spain.
An appellation is a legally defined and protected geographical indication used to identify where the grapes for a wine were grown, and there is rarely blending across them. Locations allowed Phinney to break down these rules and barriers to express true winemaking freedom.
"I'm not very much of a rule follower to begin with, but I'm also not a contrarian, and I really have a deep, deep respect for what I would call the craft of winemaking and the history. I'm a student of the game," says Phinney. "I just wanted to  explore more."
Rules may have been broken and appellations mixed, but Phinney spared no detail on getting the blends right. "I went back and forth eight times in six months to put that first blend together [Spain] because we take everything that seriously," he says.
The idea for this wine hit Phinney quite out of the blue a few years ago when he was commiserating with a friend about the wine crisis in France where a lot of non-appellated wine was being converted into ethanol. "I said, 'Some of that wine must be good. Just because it's not appellated doesn't mean it's not good wine.' And just as I was saying that, a taxi pulled up with the ubiquitious 'F' for France sticker.
That's when the lightbulb went off."
Those uppercase letters can now be found on all of the Locations labels
(F for France, I for Italy, etc.). "I think the wine can work [in any venue] just because of its value. It could be poured by the glass anywhere," he says.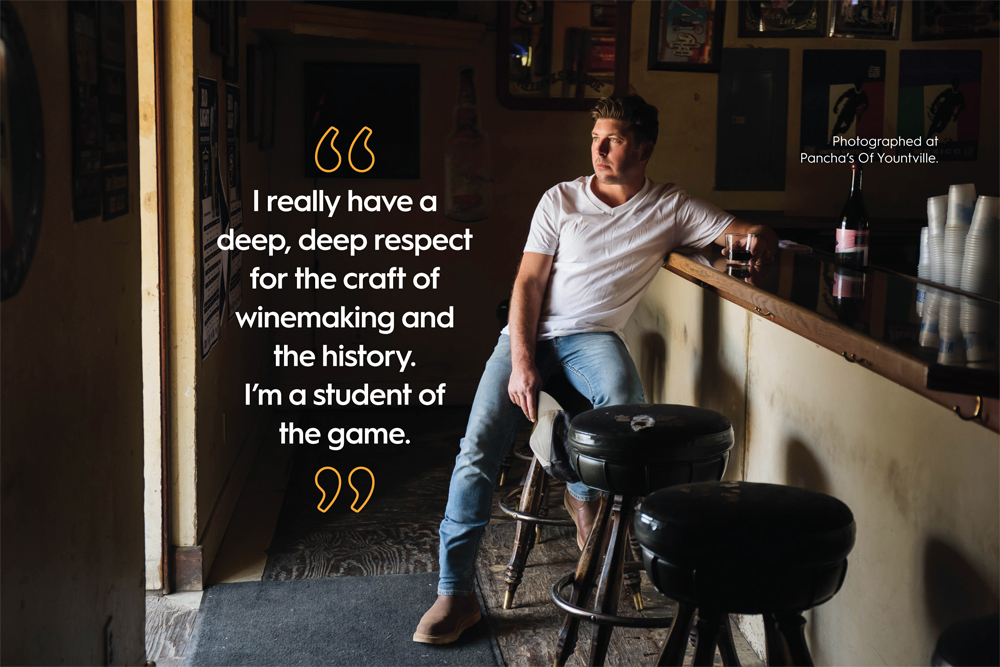 Savage & Cooke
Phinney also recently took the dive into spirits through his distillery Savage & Cooke. "We don't do anything with an eye towards profiteering. So I won't get into any business just to make money," he says. "There has to be a reason, a story. There has to be authenticity in it."
He found the story he was looking for in a 300-acre piece of land in upper Sonoma that he had originally earmarked for a vineyard. He soon realized the land wasn't ideal for planting a vineyard, but it had a spring with very pure water on it.
"Knowing from learning about spirits and understanding how important the water is, not just for
the story, but to the actual finished spirit, that's what really pushed me over the edge," says Phinney.
Savage & Cooke was born. Phinney built a distillery on Mare Island and applied his approach to winemaking to the spirits. "We grow our own grains, and we are finishing a percentage of these spirits in once-filled wine barrels—if it makes it better," he says.
Savage & Cooke currently produces whiskey, bourbon, and tequila with plans to delve into rums next.
Phinney's officially abandoned the desert, hit the road, and has his eyes securely fastened on the horizon ahead—buckle up.
---
Interested in more content like this? Click here for a free subscription to our monthly magazine.