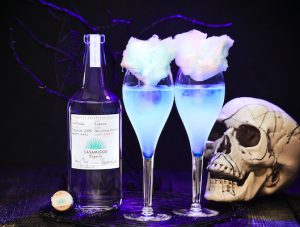 Ingredients:
2 oz. Casamigos Blanco Tequila
½ oz. Fresh Lemon Juice
¼ oz. Simple Syrup
¼ Orgeat
Top off with Tonic Water
Directions:
Combine all ingredients, except the tonic water, into tin shaker and add ice. Shake vigorously and strain into a tulip glass. Add fresh ice and top off with tonic water then carefully garnish with Cotton Candy without it touching the liquid (it dissolves when it touches the liquid).
Courtesy of Casamigos Tequila.