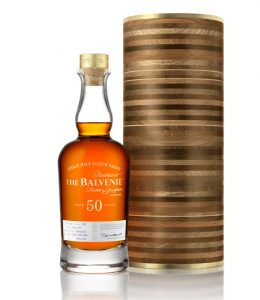 The Balvenie Fifty: Marriage 0197 is the second in a coveted series of unique expressions of exceptional quality that continue the distillery's rich history of aged variants. Showcasing Malt Master David Stewart MBE's unique skill and knowledge in selecting and marrying significantly aged single malt Scotch whisky, the bottling is comprised of highly rare liquids aged 50 years or over that have been selected from American Oak casks in the oldest sections of The Balvenie's stocks.
A liquid masterclass in marrying, The Balvenie Fifty: Marriage 0197 complements the liquid drawn from the four casks within Marriage 0962, which was released in 2018, with one further cask added to the blend. The ability to marry precious liquid that has been given 50 years or more to express itself is a complex craft due to the extreme variances of taste, strength, depth and intriguing flavors that result from significant aging. David's unbridled desire for experimentation, unparalleled stock knowledge and meticulous selection process has been instrumental in creating a second expression that not only successfully introduces an additional liquid to the Marriage 0962, but also adds another dimension to the previous expression's delicate notes.
"It takes a great deal of patience to create a liquid as unique and delicate as Marriage 0197, but the most challenging tasks are often the most rewarding," says Stewart. "Marrying whisky stocks of this age is a complex art that not only continues to challenge me after 57 years in the business but also affords me the opportunity to explore and experiment with some of our most precious aged stocks. The difference between Marriage 0197 and 0962 is only one cask, yet there is an incredible distinction amongst the two expressions. The addition of cask 9920 has added an extra level of depth and intensity, with tobacco & sweet leather initially warming the palate, closely followed by rich, sweet, citrus oak. It has been a real joy to work with some of The Balvenie's oldest stock once again and it's an honour to be able to share such a unique whisky with the world."
Each bottling of The Balvenie Fifty: Marriage 0197 is presented in a beautiful wooden tube comprised of 50 layers, 48 of walnut and two of brass, expertly handcrafted by Scottish wood craftsman, Sam Chinnery, at his workshop on Bruntlands Farm near Elgin, Scotland. The presentation also includes an etched brass certificate and bottle glorifier, inscribed with the tasting notes of each constituent cask and the taste, palette and finish of the final marriage. The decanters for Marriage 0197 have been hand-blown from 100% lead-free crystal by Brodie Nairn and his team of expert craftsmen at Glasstorm, based in Tain, Scotland. The bespoke design of the glass decanter is a sleek reinterpretation of the classic Balvenie bottle shape, which itself mirrors the silhouette of the copper stills at the distillery.
The Balvenie has a long history of 50-year-old variants. Its first was a 1937, bottled in 1987, from a vatting of four constituent casks at a time when such vintages were incredibly rare. In 2002, 83 bottles were taken from the famed Cask 191 – The Balvenie's last remaining casks from the 1950s – in the distillery's smallest ever release.
In 2012, in honor of David's 50th year with William Grant & Sons, The Balvenie's third 50-year-old was drawn from a 1962 European oak sherry hogshead, with just 88 bottles sold. And the twin bottlings of two identical casks from 1963, which had matured with markedly distinct characters were released in 2014. The Balvenie Fifty: Marriage 0197, which follow's the Marriage 0962 released in 2018, continues this tradition of innovation as part of a series of 50-year-olds with an even more complex story.
The final liquid, bottled at 42.0% ABV, is rich and deep on the nose with an abundance of oak tannins, dark fruits, bitter chocolate and intense spice. A balanced malty sweetness and spicy outburst with hints of honey and dark chocolate impart a big bold character, whilst a rich spiced finish features a luscious oak sweetness.
The Balvenie Fifty: Marriage 0197 is now available globally.