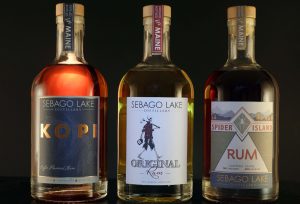 Sebago Lake Distillery is proud to announce the expansion of their distribution footprint to include New Hampshire and Rhode Island. The expansion follows the highly successful launch of the company's distinctly different and innovative, handcrafted rum brands in their home state of Maine and Massachusetts. Sebago Lake has appointed Horizon Beverage as its broker in New Hampshire and distributor in Rhode Island to lead the charge for growth in these two critical markets.
"Since our debut in Maine and Massachusetts, our momentum continues to build exponentially as we introduce more and more retailers, on-premise accounts and ultimately consumers to our super-premium range of rums," commented John Tyler, Sales and Investor Relations for Sebago Lake Distillery. "We know we have developed great products – our passion is evident in every drop of Sebago Lake Rums – but there is nothing more satisfying than experiencing consumers appreciation, first hand, when they taste our Original Rum, Spider Island Rum and Kopi Coffee Flavored Rum for themselves and embrace the realization of our dream."
Sebago Lake Distillery Rum brands represents the ultimate dream of five long-time friends who opened their own distillery, energized by Maine's long and storied history of rum production. Sebago Lake Rums embody the group's passion and the lifestyle of living by the lake where time slows down and fun comes easy.
Tyler added, "The craft industry is on fire and consumers are gravitating to locally-made, handcrafted products, like our rums, that emphasize quality ingredients and superior taste. We are thrilled to partner with Horizon Beverage to offer our distinctive, range of high end rums now to consumers in New Hampshire and Rhode Island and continue to build our distribution and growth throughout the New England region."
Founded in 1933, Horizon Beverage Company leads New England as the premier wholesale distributors of beer, wine and spirits in the region. Horizon is dedicated to uniting the New England marketplace by providing operational excellence, trusted service, personal connections, industry expertise and trend-setting taste.