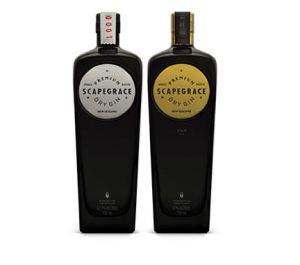 Superior brand specialist, 375 Park Avenue Spirits, is pleased to announce that it has come to an agreement with the Rogue Society Distilling Company to act as the exclusive U.S. importer for their Scapegrace gin portfolio.
"We are absolutely thrilled to be working with 375 Park Avenue Spirits as our exclusive distribution partner in the U.S. We feel our company values, ethos and strategy are very much aligned and we're really excited about the partnership ahead," commented Daniel McLaughlin, Rogue Society Distilling Co. Managing Director. "The U.S is such an important market for us and to have 375 Park Avenue on board to represent Scapegrace is a real game changer for our young company."
Scapegrace, known as the "gin from the bottom of the world" is produced on New Zealand's South Island using water sourced from one of the world's last natural aquafers, fed from the country's Southern Alps. The botanicals are distilled using neutral grain spirit in a restored 19th century copper pot still found in an abandoned shed. Master Distiller John Fitzpatrick uses 12 botanicals for Scapegrace Classic (juniper berries, lemon peel, orange peel, coriander seeds, cardamom pods, nutmeg, cloves, angelica root, licorice root, orris root, cinnamon sticks, and cassia bark), and a thirteenth for the navy strength Scapegrace Gold expression (dried tangerine).
Launched in early 2014 by co-founders Daniel Mclaughlin, Mark Neal and Richard Bourke, the award-winning Scapegrace is currently the number one super-premium gin in New Zealand, number two ultra-premium gin in Australia, and since launching in the UK, Scapegrace has already positioned itself in the majority of the top 50 cocktail bars in the country including Dandelyan, Swift, Bramble and The Gibson.
"We developed our recipe with bartenders in mind to be versatile in classic cocktails. Our profile is classically citrus and super smooth, and we're stoked to have just won a Double Gold medal for Scapegrace Gold and a Silver medal for Scapegrace Classic at the 2018 San Francisco Spirits Competition," said McLaughlin. "From a brand sense, Scapegrace provides a modern and progressive lens to the somewhat traditional category of gin."
"We're ecstatic to be welcoming the newest member to the 375 Park Avenue Spirits family, Scapegrace Gin, and to be embarking on a long-term partnership with the team from Rogue Society Distilling Co.," said Jason Schladenhauffen, President and COO for 375 Park Avenue Spirits. "Despite being early in its brand life cycle Scapegrace has already achieved sizable international success and we are poised to make the U.S. the next country on that list. The super to ultra-premium gin category continues to experience sizable growth here in the U.S. and we're confident that Scapegrace will quickly become one of the new rising stars in the category."
Scapegrace, which means 'rogue', 'rascal' or a 'free-spirited' is presented in a black-tinted bottle inspired by 19th century antique genever containers. The black tint protects the liquid inside and is a nod to gin's somewhat murky history over the years. Handcrafted and batch distilled, each bottle also features its batch number on the label strip over the capsule.
Scapegrace gin is bottled at 42.2% abv with a suggested retail price of $36.99, while the navy strength Scapegrace Gold is bottled at 57% abv with a suggested retail price of $59.99. Both offerings will be available from 375 Park Avenue Spirits beginning June 1, 2018.