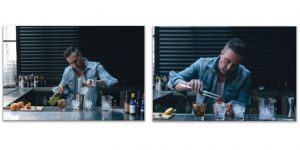 Chris Adams, founder and principal of internationally renowned hospitality consultancy Ellis Adams Group, has teamed up with Arc Cardinal's brand Arcoroc to create an exclusive barware collection for the global foodservice brand, which will be available for purchase beginning Summer 2018.
The collaboration, called the Mix Collection, will launch with an array of tools specifically intended for the hospitality industry. Arcoroc, known for barware, has brought on Adams to create the tools that bartenders need to keep up with demand and complement their bar glasses. The collection is available for purchase through major foodservice equipment suppliers and product samples are available via the company's website.
Designed to withstand the rigor of high volume restaurants and bars, while still focusing on the craft, the Mix Collection was created by Adams, whose experience establishing some of the world's most acclaimed bar programs has lent cachet for this collaboration.
"As someone who has worked behind numerous bars and established cocktail programs across the globe for both Marriott brands and Ellis Adams Group concepts, I know how crucial well-made, durable bar tools are, that still are relevant for the craft cocktail process," states Adams. "These products must be conceived for the demands of high volume bars and restaurants and have efficiency and precision top of mind. The Mix Collection is just the beginning of my partnership with Arc Cardinal and I look forward to sharing even more exciting announcements in the coming years."
The upcoming Mix Collection offers a selection of metal barware essentials, each designed for speed and accuracy. The collection includes:
Arcoroc® Hawthorne Strainer
features extra tight coils to allow for easy straining
Arcoroc® Fine Mesh Strainer
perfect shape and size for straining ingredients
Arcoroc® Julep Strainer
fits perfectly into the Yarai mixing glass for simple straining
Arcoroc® Tweezer
perfect size for garnish handling and ribbed handles ensure a good grip
Arcoroc® Tongs
features raised serration for grabbing ice with ease