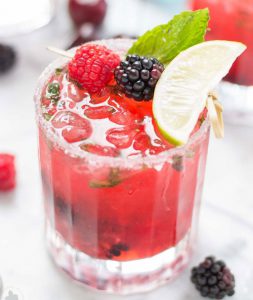 Ingredients (Serves 4)
3/4 cup Smirnoff Red, White & Berry
1 cup limeade
Club soda
Handful of mint leaves
6 oz raspberries
6 ounces blackberries
4 ounces cherries, pitted and cut in half
Sugar and lime wedge for rimming
4 teaspoons sugar, (I used stevia)
Directions:
In the bottom of 4 – 11.5 oz glasses, place 1 teaspoon of sugar and a few torn mint leaves. Muddle. To each glass add 2 raspberries, 2 blackberries and 2 cherries. Muddle with the sugar and mint until liquefied. Pour 1.5 oz Smirnoff Red, White & Berry into each glass. Top with 1/4 cup limeade, crushed ice and a splash of club soda. Garnish with a cocktail pick of a raspberry, blackberry and lime wedge.
Courtesy of Megan Marlowe, Strawberry Blondie Kitchen