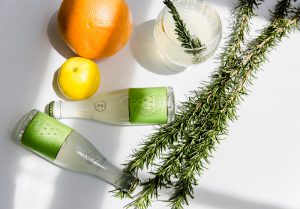 Aurora Elixirs, a new Oregon-based brand of hemp and cannabis tonics, has launched with two hemp elixirs, Lavender Spice and Grapefruit Rosemary, now available nationwide. Founded by Victoria Pustynsky, Aurora Elixirs' striking packaging and balanced flavor profiles are meant as refreshing aperitifs and creative cocktail mixers.
Aurora Elixirs launches with two aromatic natural flavors of CBD infused tonics. The first, Lavender Spice, is a floral, calming blend of lavender, coriander, and citrus peel. The second, Grapefruit Rosemary, offers a piney, botanical mix of green aromas and bright citrus.
Each hemp elixir contains 15 mg CBD derived from certified organic hemp, pure organic cane sugar, quinine, natural flavors, and natural emulsifiers. The two flavors profiles highlight the unique aromatics found in hemp and cannabis for a balanced and restorative, slightly effervescent tonic.
Aurora Elixirs Founder and CEO, Victoria Pustynsky, brings a wide range of experience and expertise to Oregon's rapidly-growing cannabis market. After more than fifteen years working in the luxury beverage business in New York City, including long stints at Moët Hennessy and Suntory Spirits, Pustynsky moved to Oregon where she found a fresh side of the food and beverage business.
"As we continue to embrace cannabis across the country, I saw an opportunity to combine my long love for the plant with experience gained in the wine and spirits world," says Pustynsky, who is also an avid yoga practitioner and instructor, as well as a mother. "The community of makers and entrepreneurs in Portland encouraged the project and made me feel like starting my own business was possible."
Aurora Elixirs is two years in the making, with distinctive branding from Sideways, a New York City-based creative agency. Together, they conceptualized a product that would provide a refined and transportive experience for new consumers to the CBD or cannabis market.
Aurora Elixirs' hemp tonics are available for purchase online with shipping available nationwide. The Lavender Spice and Grapefruit Rosemary tonics are sold in single serving, 6.7-ounce bottles for $8 each.
CBD is the non-psychoactive chemical compound in cannabis, usually associated with feelings of relaxation without intoxication. Aurora Elixirs' CBD tonics contain active cannabinoids and aromatics without THC or chlorophyll, producing an easy-to-drink elixir without harsh, pungent aromas, or flavors. The popularity of CBD products in a variety of consumable forms, including energy drinks, beer, coffee, and tonics, is growing at an incredible rate. Bartenders around the country are embracing this new market for cannabis products, incorporating CBD cocktails into bar and restaurant menus. As Aurora Elixirs' two CBD elixirs contain no THC, the products are available for shipment to most US states.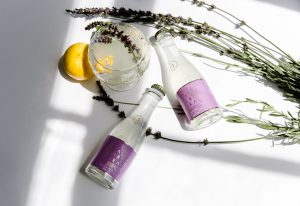 Aurora Elixirs are balanced and refreshing whether poured over ice or mixed into cocktails. Pustynsky recommends mixing either elixir with gin and garnishing with citrus for a CBD-infused highball.
An additional duo of Aurora elixirs containing THC is coming soon, with two flavors launching later this summer: Citrus Cayenne, with 5 mg CBD and 5 mg THC is a complex blend of citrus, cayenne pepper, and black peppercorns for a refreshing, spicy drink, and Mango Vanilla contains 15 mg THC and offers tropical, tart combination of mango, cardamom, and vanilla. A third flavor of CBD elixir is also in development.