Phillips Distilling Company is putting Minnesota on the bourbon map with a new small batch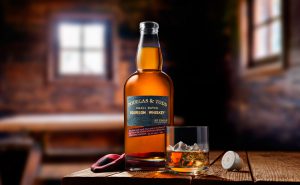 craft bourbon, Douglas & Todd. Phillips Distilling Co. partnered with Minnesota's first craft distillery, Panther Distillery, for the development of this one-of-a-kind bourbon that hits select markets this summer.
"Douglas & Todd was born out of a collaboration of two innovative spirits companies using distilling and aging methods that work with nature, not against it," noted Phillips Distilling CEO Mike Duggan. "We have waited patiently to get into the bourbon category until we knew we could offer something that was high quality and unique. We know we have something special with Douglas & Todd."
Phillips Distilling Co., leveraging its 100+ years of distilled spirits experience, collaborated with Panther Distillery to embrace the varied climate of its northern Minnesota location to create this smoother-drinking bourbon.
"When the Phillips team approached us about creating a small batch, Minnesota bourbon, we jumped at the chance to partner with Minnesota's oldest spirits company," stated Adrian Panther, owner of Panther Distillery. "Together our experience, creativity and ingenuity resulted in a bourbon that is unlike any other."
A BOLDER BATCH
The inaugural batch of Douglas & Todd, aged for over four years, is in limited supply in select markets across the country. The attention that goes into the distilling and aging process means that every batch of the 93 proof spirit is made with the bourbon enthusiast in mind, not just processed in mass batches.
Douglas & Todd is a small batch craft bourbon aged in handmade oak barrels. The seasonal temperature variation present in Minnesota delivers a unique, four-year aging process, making for a distinct flavor profile and smooth taste. The brand name signifies two historic Minnesota counties, Douglas and Todd, where ingredients are sourced from local farms, and the product is distilled and aged.
COMBINATION OF CROPS
Douglas & Todd consists of hardy ingredients including a unique blend of strong "short-summer" corn and red winter wheat, creating more starch and finishing with a more distinct flavor. The end product offers a sweet, smoky, woody character, with a hint of fruit and vanilla at the finish.
"Distilling bourbon requires a combination of patience, learning and high-quality ingredients to help create the perfect flavor profile," said Duggan. "We've been using our cold winters and hot summers to our advantage, resulting in what we believe is the perfect batch of bourbon. We are looking forward to having true bourbon lovers experience the uniquely smooth taste that comes from our distinct aging process. Born and rested in Minnesota with a natural chilling process makes Douglas & Todd the bourbon that brings its own ice."
Douglas & Todd small batch bourbon, sold at the suggested retail price of $39.99, will be available in a 750mL bottle at select retailers.