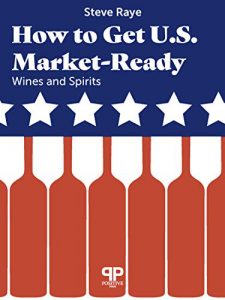 How to Get U.S. Market-Ready is a new book by Steve Raye that provides practical solutions for export and domestic wine and spirit brands looking to enter and grow in America. In Steve's words, "The goal of the book is to help newbies to the U.S. market avoid making the same mistakes others have made before them, again for the first time."
The book is packed with practical advice, proprietary tools that can be put to use immediately. One example is a very useful glossary providing definition to some of acronyms that pervade the business, such as SPA, DA, MSRP, as well as terms including bailment and franchise law. There is also a corollary website, www.GetUSMarketReady.com with practical worksheets on price structures, and a proprietary tool for selecting the right states to choose for market entry.
Steve draws on his decades of experience in the business to answer the questions that many producers face:
How do I find the right importer? (Hint: there are 10 different options)
How can I get distributors to pay attention to my brand?
How do I price my product, and what are normal margins within the Three-Tier System?
What is the best market for me to go into?
Another notable section of the book focuses on changes in government regulations. The U.S. wine and spirits market is controlled by a crazy quilt of seemingly archaic and illogical regulations and the book includes examples of creative, non-traditional solutions that capitalize on the insider knowledge which the author shares. And it's peppered with the author's hard-won wisdom, compelling case histories and anecdotes and passionate advice making it an interesting and fun read.
How to Get U.S. Market-Ready is available for purchase in the U.S. on Amazon.com, as well as at www.GetUSMarketReady.com. The publisher is Positive Press and was written with the help of Federico Berti and Enrico Avesani. Print copies in the E.U. are available at Amazon.it.