The Tequila Diet cookbook was recently published by Bravo's Top Chef alum Chef Dave Martin. The book is complete with cocktails and full-blown food recipes featuring tequila.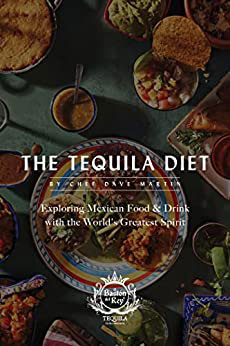 Martin is an American Chef who first made a name for himself on the small screen with an unforgettable appearance on the inaugural season of Bravo's Top Chef. Since the show, he's gone on to have a busy career in restaurant consulting, events, and private chef work. In his down time, he loves to eat, drink, and explore—spending as much time as possible traveling and becoming an expert at global cuisine. While Dave loves the cuisine of every country he visits, his love for Mexican food and tequila is beyond compare.
The book starts off with a glossary of terms, tips, and methods that will be discussed throughout the book as well as a list of necessary pantry items and kitchen gadgets.
The book then delves into cocktails of Martin's own creation, all of which are named after the various towns and cities in Mexico that inspired them. There's even a section of recipes for cocktail syrups and emulsions.
The cocktail recipes include riffs on favorites like the margarita and paloma, as well as some unique takes on classic cocktails that don't typically use tequila—like the Oaxacan Old Fashioned:
Oaxacan Old Fashioned
Ingredients:
¼ cup el Bastón del Rey Anejo Tequila
1 TBSP cinnamon & agave syrup
1 tsp fresh lemon juice
¼ tsp orange bitters
GARNISH: 1 tsp guajillo chile powder & 1 tsp smoked sea salt (mixed), orange peel
Directions:
Chile rim–you can use a small plate and pour some juice or water onto the surface and then roll the rim of your old-fashioned glass into the liquid and then onto a small plate with
some of the chile powder & sea salt. Set aside. Place first set ingredients into an old-fashioned glass and stir to combine. Add ice and garnish with orange peel.
Recipe excerpted from The Tequila Diet by Chef Dave Martin.
Beyond cocktails, the book offers recipes for cooking with tequila as well. Readers can explore everything from breakfast to salsas to side dishes to meats and poultry and more. The book finishes with a section on desserts.