National Margarita Day is Tuesday, February 22—perfectly timed for Taco Tuesday—and we've got your bar covered with a selection of margarita recipes in all types of flavors.
Hibiscus Margarita
Ingredients: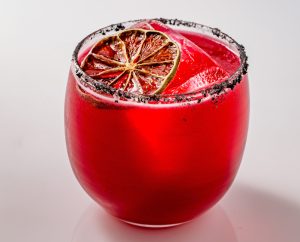 1.5 oz El Tequileño Platinum
2 oz Sweetened hibiscus juice
.5 oz Freshly squeezed lime juice
.5 oz Agave syrup
Garnish: Hibiscus flower
Directions:
Add ingredients to a shaker with ice. Shake until ice cold and strain into a rocks glass over cubed ice. Garnish with a Hibiscus flower.
Blue Nectar Sriracha Marg
Ingredients: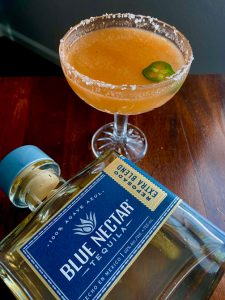 2 ounces Blue Nectar tequila
1/2 ounce triple sec
2 ounces fresh lime juice
1 teaspoon Sriracha sauce
Ice
1 jalapeño pepper cut into wheels
Salt for rim
Directions:
Salt the rim of your glass by placing a small amount of Sriracha on a plate, dipping the rim of the glass with Sriracha, then dipping the rim in salt. Place ice in a cocktail shaker with ice, then add in tequila, triple sec, lime juice, and Sriracha. Shake vigorously, then pour the margarita into the glass. Garnish with a jalapeño wheel and enjoy.
Heat Wave (Spicy Marg)
Ingredients:

2 oz. Ritual Tequila Alternative
1 oz. fresh lime juice
1 oz. triple sec
0.5 oz. agave nectar
½ jalapeño pepper
Basil Leaf
Tajin or Valentina Seasoning (for rim)
Directions:
Pour Tequila Alternative over jalapeño and basil, sliced lengthwise, in a cocktail shaker. Let sit at room temperature for at least 15 minutes. The longer, the spicier. Add lime, triple sec, agave and ice. Shake shake shake. Pour over ice into a Tajin-rimmed glass. Garnish with jalapeño slices and basil.
Yuzu Margarita
Ingredients: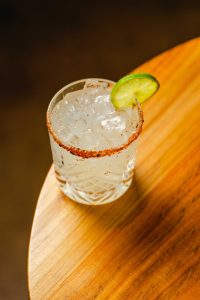 1.5oz of Hornitos
0.5 oz peach schnapps
0.5 oz ginger liqueur
0.5oz yuzu juice
Directions:
Shake and pour over ice in a rocks glass. Garnish with a spicy salt rim and flower.
Recipe from Sushi Garage. Photo by Juvia Group.
Ilegal Passionfruit Margarita
Ingredients: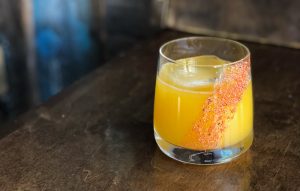 1.5 oz Ilegal Joven
.75 oz agave
.75 oz lime
.75 oz fresh passionfruit syrup
Directions:
Add all ingredients to a shaker with ice. Shake. Dump the contents into a rocks glass with a tajin rim.
Recipe by Coastal Kitchen + Daiquiri Bar Joe Mele, GM and Beverage Director for Ilegal Mezcal.
Toasty Cactus Pear Margarita
Ingredients: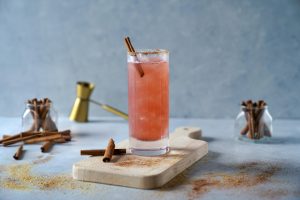 3 oz Fresh Victor Cactus Pear & Pomegranate
1.5 reposado or añejo tequila (100% agave recommended), or aged mezcal
¼ tsp ground cinnamon (or .5oz cinnamon syrup*)
Garnish: 1 cinnamon stick
Directions:
In a cocktail shaker, add all ingredients, fill the shaker with ice, shake well (to chill and dilute) and strain over ice in a 10-12oz glass. Add garnish and serve.
Blood Orange-Jalapeño Margarita
Ingredients: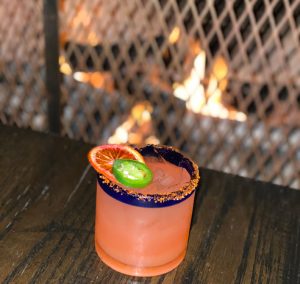 1.5 oz of jalapeño-infused Casamigos Tequila
¾ oz Grand Marnier
¾ oz Blood Orange Agave
¾ oz lime juice
Halo Del Santo Salt for rimmer
For Blood Orange Agave:
½ oz. The Perfect Purée Blood Orange Concentrate, thawed
agave syrup
water
Directions:
Combine 2:1 agave to water and dilute. Mix Blood Orange Concentrate with one ounce agave and stir to combine. Rim glass with salt. Combine all ingredients in a shaker. Strain into rimmed glass and garnish with blood orange wheel and jalapeño slice.
Cuervo Watermelon Margarita
Ingredients: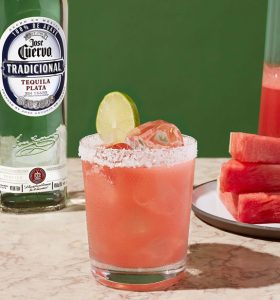 1 1⁄2 oz. Jose Cuervo® Tradicional® Plata*
3 oz. blended and strained watermelon juice
1 oz. fresh lime juice
3/4 oz. orange liqueur
Lime wheel
Directions:
Slice watermelon into 1 inch cubes. Blend in a blender until smooth. Pour through a sieve to remove pulp. Add Jose Cuervo® Tradicional® Plata, watermelon juice, lime juice, and orange liqueur to a cocktail shaker over ice. Shake vigorously until cold. Strain into a glass over ice. Garnish with lime wheel.