Founded in Steamboat Springs, Colorado in 2018, Dano's Tequila stands out from others with its line of ultra-premium, 100% agave tequilas – each of which is handcrafted with zero additives in a fourth generation, female-owned distillery in the Tequila region of Jalisco, Mexico. The Dano's portfolio features four award-winning expressions, including the original Pineapple & Jalapeño infusion as well as Blanco, Reposado, and Añejo aged in virgin white oak barrels.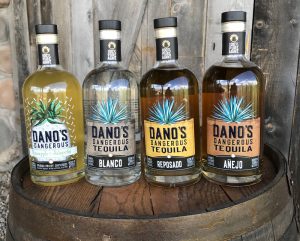 The idea for Dano's Tequila was born when Danny "Dano" Thompson began infusing tequila with fresh pineapple and jalapeño for friends and family and gained a local following in his hometown of Steamboat Springs. Friend turned Dano's Tequila co-founder and CEO, Chris Timmerman, knew that Dano had a winning idea on his hands, but in order to take their business to the next level, they had to find the perfect distillery. Dano and Chris journeyed to Mexico, tasting countless tequilas before ultimately discovering Hacienda de Reyes, the second oldest distillery in Mexico. They knew they had found the one when they met the Reyes family — who have been hand crafting tequila in their small, family run distillery in Tequila, Jalisco since 1840 — and made a deal to partner exclusively and start producing Dano's Tequila.
"I inherited the distillery from my grandfather," Silvia Reyes, owner of Hacienda De Reyes. "Meeting Danny and Chris was the start of a great partnership and I knew it would be a perfect fit producing their tequila here."
One of Mexico's celebrated tequila distilleries, Hacienda De Reyes is dedicated to producing tequila traditional and authentic, using the same methods that have been in place since its founding in 1840. The distillery uses blue weber agave plants, allowing them to reach full maturation and peak ripeness before harvesting. From there, the plants are roasted in Hacienda De Reyes' 180-year-old hornos (stone ovens) and then allowed to ferment completely naturally using the open fermentation process. Though this takes longer, it maintains the exquisite flavor profile of the agave. The tequila is then distilled twice in antique, handmade copper pot stills using fresh, all-natural spring water. Unlike other distilleries that age their tequila in previously used whiskey barrels, Hacienda De Reyes uses 100% new virgin white oak barrels charred to level four (the highest level for liquor barrels, providing the most flavor and color) to age Dano's Reposado for nine months and Dano's Añejo for 18 months. Hacienda De Reyes' dedication to time-honored traditions makes Dano's Tequila the cleanest and one of the most authentic tequila available on the market. Since partnering with Dano's, Hacienda De Reyes has grown from a team of three original employees to over 70, providing health benefits to all, and is being fully restored
and updated.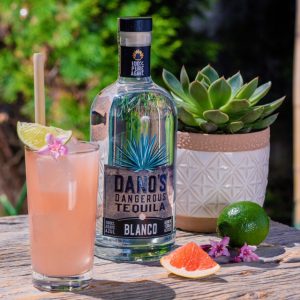 Dano's Tequila has quickly become a top-ranking tequila brand, winning honors at every spirits competition it's entered and countless awards for each bottle in the portfolio.
"Dano's Tequila is made with a passion that begins at the distillery in Mexico and carries all the way to our home base in the United States. We take the best of the best in ingredients and production methods to create tequila that will exceed the expectations of the most discerning consumer, says Chris Timmerman, CEO of Dano's Tequila.
Dano's Tequila Portfolio Includes:
Pineapple & Jalapeno Infusion
The 2020 SIP Awards International Spirits Competition double gold medal winner is made
with Dano's 100% agave Blanco Tequila, fresh fruit and contains no added flavors or extracts.
Blanco
The 2020 SIP Awards International Spirits Competition gold medal winner is crystal clear with delicate silver sparkles. The taste of this 100% agave tequila is sweet and crisp with hints of vanilla and coconut, perfect for sipping or mixing.
Reposado
Winner of the gold medal at the 2020 San Francisco World Spirits Competition, this tequila has light amber color from aging for nine months (more than four times the industry standard) in virgin white oak barrels. Its aroma is a mixture of gently toasted agave with
a taste of almond and vanilla, ending with a soft oak flavor.
Anejo
Winner of "Best in Class Anejo" at the 2020 San Francisco World Spirits Competition, this tequila has a rich amber color derived from aging between 12 and 18 months in virgin white oak barrels. Dano's Anejo has an aroma of roasted agave with woody notes and a luxuriously rich taste of vanilla, caramel, coconut and oak.