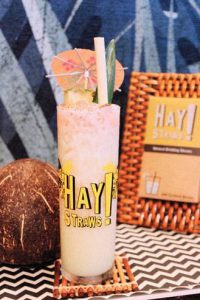 With summer entertainment in full swing, ditch the plastic straw and move to a sustainable, durable option: HAY! Straws. Biodegradable, chemical-free, and from natural wheat stems, HAY! Straws provide superior functionality, aesthetic, variation, durability, and affordability.
This eco-friendly alternative to plastic straws are first harvested by hand, with only the best selected for making HAY! Straws, ensuring the highest level of quality; with one pound of hay yielding roughly 1,000 HAY! Straws. After the straw is used, it can be tossed right into the compost bin, breaking down within two to four months. Best part of a HAY! Straw? It doesn't get soggy!
Currently, HAY! Straws are offered in two different options, cocktail with 5 inches in length with 3.5 to 5 millimeters in diameter and tall with 7.75 inches in length with 3.5 to 5 millimeters in diameter, making it the perfect addition to anyone's home, event, or workplace. Its strong quality allows for the HAY! Straw to be used in cocktails shaken or stirred, frozen drinks, and even in iced and hot coffee.
HAY! Straws can also be found in diverse establishments from restaurants to and tiki bars like Lost Lake in Chicago and Broken Shaker in Los Angeles to hotels and hospitality groups throughout the country such like Jose Andres' ThinkFoodGroup concepts in Washington DC and Ace Hotels in New Orleans and Pittsburgh.
As city-wide plastic straw bans are imposed, HAY! Straws are the perfect option that provides a guilt-free sipping solution that is eco-friendly, strong, durable, economical and gluten-free. Since being introduced to the public in 2018, HAY! Straws has helped replace over 55 million plastic straws. This number is expected to grow with the soon-to-come HAY! Straws jumbo collection, which includes three new sizes including a boba straw.
Currently, HAY! Straws are available in the U.S., Canada, and the E.U., for retail purchase in packs of 100 and 500 at www.haystraws.com or via wholesale.
HAY! Straws are made from natural wheat stems and are 100% biodegradable, which means they won't linger in landfills, polluting our land or oceans. They are similar in feel and function to the plastic straws we've all become so accustomed to, but without the toxins and the damaging footprint on our earth. Unlike paper straws, HAY! Straws are made from a renewable source, and best of all, they don't get soggy!