Introducing George Dickel Single Barrel Aged 15 Years : a rare, superior Tennessee Whisky and a one-of-a-kind liquid experience! Over the years, Cascade Hollow Distilling Co. has carefully set aside a limited number of casks holding our most precious and richly complex George Dickel Tennessee Whisky.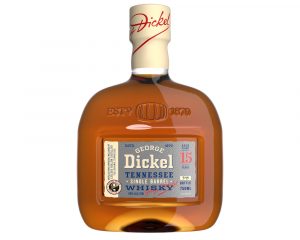 George Dickel's newest Single Barrel offering is aged at least 15 years and can be purchased by the barrel and by the bottle! Those who order a barrel, are able to add custom branding and messaging to their bottles and choose from the highest proof options that were stored in the top tiers of the warehouse. Those buying-by-the—bottle can expect to see a variety of proofs of the liquid at their retailers, showcasing the variability that makes single barrel whiskies so exciting and special!
PRODUCTION:
All barrels are bottled by hand with minimal filtering and little water added.
AVAILABILITY:
Starting this November, George Dickel Single Barrel Aged 15 Years is available to retailers and on-premise accounts who want to offer their customers a one-of-a-kind liquid in CA, DE, FL, GA, TN, TX (Nov-Dec); Additional markets coming in Jan. 2021!
TASTING NOTES:
While no two casks are the same and each will vary in taste, consumers can expect a rich and complex liquid in every bottle. The variability that makes single barrel spirits so special is strongly expressed in these older liquids, with the influence of slight variations in their aging conditions growing over time. Tasting notes range from notes of vanilla, toffee and treacle to rich leather, saddle oil and wood, to a more delicate perfume of fruit or lavender notes. Color will be dark, rich leather brown from the many years spent in new American Oak.