Bowmore® Islay Single Malt Scotch Whisky is pleased to unveil the Bowmore Timeless Series, which will feature masterpieces of whisky beautifully crafted and shaped by time. This month, Bowmore introduces two new additions to this older age range of whiskies: Bowmore Timeless 27 Year Old (introduced worldwide) and Bowmore Timeless 31 Year Old (exclusive to Global Travel Retail). Each bottling is a limited edition of just 3,000 bottles.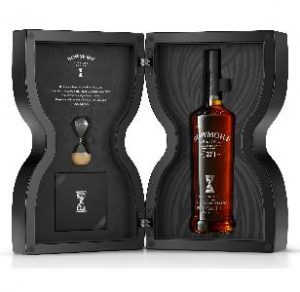 For more than 240 years, the Bowmore Distillery has been capturing the essence of Islay from the shores of its remote island home. Shaped by centuries of skill and tradition, Bowmore's single malt harnesses the power of this time in every single drop, defined by the past and to be savored in the present. The Bowmore Timeless Series reflects this legacy and will celebrate the timeless creations of Bowmore. This combination of patience, dedication and unwavering attention to detail results in the most sophisticated and coveted of single malts that reflect Bowmore's signature taste – a perfect balance of smoke, exotic fruit and sea salt.
Ron Welsh, Bowmore Master Blender, says, "For the Bowmore Timeless Series, the key is the careful selection of the right casks at the right time. This enables us to determine when the spirit has reached its peak or if it should be left longer to develop its character further. This careful balance is vital to ensuring the optimal character of our whiskies, promising exceptional flavor delivery."
To celebrate the launch of Bowmore Timeless Series, Bowmore has collaborated with independent French film director and artist, Thomas Vanz, to pay homage to the artistic craft of creating Bowmore's iconic whiskies. Vanz has produced a short film that illustrates the power of time as expressed in the evolution of whisky. The immersive and abstract film sparks intrigue and interest in this Series, while telling the story of Bowmore more broadly. The film is a journey from the beginning of time itself, unfolding moments of cosmic beauty within the creation of our timeless single malt whisky.
Commenting on the collaboration, Vanz said: "The artistry involved in the whisky making process is fascinating and provided me with rich and vivid inspiration to create my own unique interpretation. Through my work, I focused on capturing a galaxy of beautiful chemical reactions to represent the whisky-making process, which is made up of complex movement and colors. This is my interpretation of the Bowmore universe, from where it begins to the final character. To collaborate with a single malt with such a remarkable legacy and from an awe-inspiring place is a first for me, and I relished the opportunity to explore Bowmore in my own way."
Bowmore Timeless 27 Year Old
Matured in Sherry and ex-Bourbon casks for 15 years before being carefully moved into first-fill Oloroso butts for a further 12 years, Bowmore Timeless 27 Year Old is bottled at cask strength. With the distinctive Bowmore character, this single malt offers up fruity flavor, combined with rich sherry and a nod to fresh leather, tobacco and beeswax.
Color: Auburn
Nose: Fruity cooked plums and prune jam. Corinth raisins and sultana notes with a strong Oloroso influence. Toffee and maple syrup, licorice, grilled orange peel and smoked seaweed.
Taste: Sweet with chestnut honey and strong bee's wax, fresh leather and Montecristo cigar tobacco, roasted coffee beans and dark chocolate with a hint of oak tannins.
Finish: Long with scented burnt wood notes, dry fruits and a touch of frankincense
SRP: $1,525 USD
ABV: 52.7%
Bowmore Timeless 31 Year Old
Exclusive to Global Travel Retail, Bowmore Timeless 31 Year Old has been nurtured in ex-Bourbon casks, selected at their peak, for 29 years. This was then followed by two years in Spanish Oak Matusalem Sherry seasoned butts to 'finish' and enhance the flavors; defined by floral notes, with honey and vanilla sweetness and a touch of peppermint.
Color: Deep gold
Nose: The floral scent of lilies of the valley, gardenia, freesia and a hint of Jasmine, with an almond and vanilla character, acacia honey sweetness, light dry grass and a touch of peppermint
Taste: Floral and delicate with sweet notes of magnolia, lilac and sweet pea flowers combined with creamy cookie dough and a hint of salted seaweed
Finish: Sweet and subtle with chalky mouthfeel and acacia honey and mint candy notes.
SRP: $2,100 USD
ABV: 45.4%
The Bowmore Timeless Series is housed in a distinctive black box, inspired by the classic hourglass shape. Inside, the bottle sits alongside an hourglass, which once turned allows nature's gravity to release the grains of sand into the base of the hourglass giving three precious minutes to enjoy the nose of this beautifully balanced masterpiece that has taken decades to perfect.