Building off its distinctive high rye recipe, Basil Hayden's® is launching a 10 Year Old Kentucky Straight Rye Whiskey for a limited time. This is the first rye whiskey the brand has created with this distinguished of an age statement, and its first new release of 2020.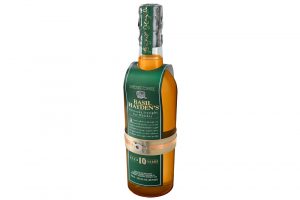 Bottled at 80 proof, Basil Hayden's 10 Year Old Rye extends beyond the bounds of a typical whiskey with an elegant and complex taste profile paired with an approachable spicy finish. This light but full-flavored rye remains approachable, making it the perfect whiskey for anyone to enjoy.
Basil Hayden's® 10 Year Old Rye Whiskey offers new and current whiskey fans alike the following characteristics:
Proof: 80
Color: Golden Honey
Aroma: Sweet vanilla and oak, with a touch of light fruit
Taste: Approachable spice and oaks notes with hints of caramel
Finish: Faint tobacco and warm cinnamon heat
Sipping Suggestions: Best enjoyed neat, with a drop of water or on the rocks
Basil Hayden's 10 Year Old Rye is officially available nationwide with a suggested retail price of $69.99 for a 750ml bottle.
Beyond its flagship Basil Hayden's Bourbon, the brand has pushed the boundaries of innovation in recent years by specifically exploring the unique taste profile of rye. These intriguing offerings have included the 2017 limited-edition release of Basil Hayden's Rye Whiskey, the 2017 permanent addition of Basil Hayden's Dark Rye, the 2018 limited-edition release of Basil Hayden's Two by Two Rye™ and the 2019 limited edition release of Basil Hayden's Caribbean Reserve Rye™.
Photo courtesy of Basil Hayden's.