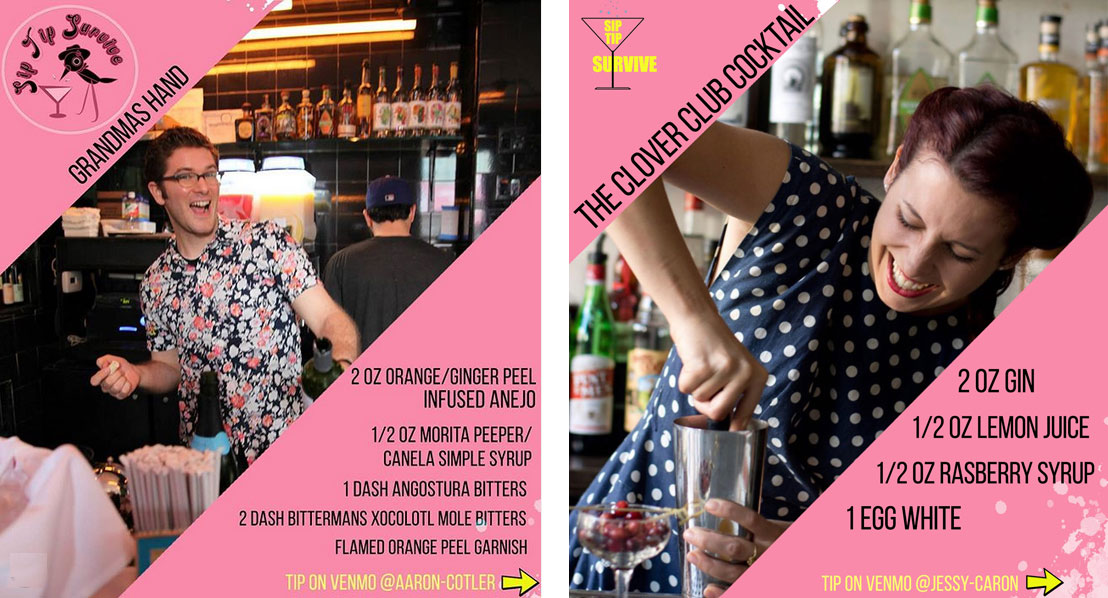 Cocktail lovers across the country are reading about the collapse of the restaurant industry, and mixing cocktails with increasingly paltry pantries. Meanwhile, talented bartenders are feeling the financial burden of COVID-19, while years expertise and loads of charisma go to waste. Part virtual bar, part relief effort, Sip Tip Survive was launched by bartenders in response to the crisis. They take orders, they take Venmo tips, and the tips go straight to the source.
Inspired by telethons, Sip Tip Survive features a rotating cache of bartenders picking up three-hour shifts, from happy hour to last call. Throughout the course of the working shift —hosted as an account takeover on Instagram live—guests can join for a drink or a chat, and ask for advice on what they can mix with their own pandemic pantry. Between live guests the bartender can share recipes, tell dad jokes, or even do a DJ set.
"One of the best things about bartending is the connection," said Jessy Caron, founder of Sip Tip Survive. "Sip Tip Survive provides a way for bartenders to do what they do best. Beyond entertaining and cocktail recipes, the Instagram shifts are a reprieve for us and the viewers because even in the silence it feels like someone is still there, and they're ready to listen and be part of an experience we all miss. Plus it's a great change to take a peek at your favorite bartender's home bar set up and learn their secrets."
Ahead of each shift, bartenders are supported with marketing, a loose run-of show, and pointers for passing the time. Each host is encouraged to keep it light, and to offer approachable solutions for at-home bartenders. Shifts have been filling quickly and the project plans will continue as long as there is demand.
To support Sip Tip Survive patrons can follow along on Instagram @siptipsurvive. Tips are accepted through Venmo and go directly to the bartender. Bartenders looking to pick up a shift can get in touch through Instagram as well.