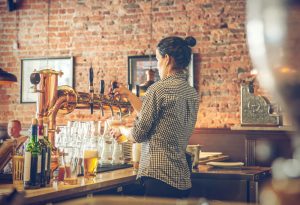 During Thursday, June 18's Instagram Live update, USBG National Charity Foundation volunteer board member Kim Haasarud spoke about the pausing of grant applications and what the future of the grant assistance program looks like.
Currently, the USBG National Charity Foundation has disbursed a total of 30,000 grants through its Bartender Emergency Assistance Program COVID-19 Relief Campaign.
But Foundation recognizes the need for financial assistance still remains high in the bartending community as bars and restaurants reopen in varying degrees. In Texas, for example, bars are able to open at 75% capacity – though that doesn't necessarily mean they'll be 75% full. New York City bars can offer delivery and take-away cocktails, but the city is still weeks away from reopening under official guidelines. Bars in Los Angeles are still closed, but surrounding areas including Orange, Riverside, and San Bernardino counties are wide open.
In some locations where establishments were allowed to reopen, like Florida and Arizona, bars and restaurants have even had to close again because of spikes in COVID-19 cases.
"Bartenders are either left with significantly reduced hours or no hours at all or even uncertain about where they're going to be working in the weeks ahead," said Haasarud.
As a result, the Foundation is continuing to fundraise to help the 32,000 bartenders currently in their grant portal. They have raised $9 million from 4600 donors, but Haasarud said the Foundation needs another $9 million by July 15. "We're in a delicate place right now with bars and restaurants reopening at different rates and to varying degrees depending on where you are in the country," she said. "Our immediate priority is to aggressively fundraise in order to help as many of the eligible bartenders currently in our portal as possible."
She asked those who can donate to do so, or to pass the USBGFoundation.org link to a person or organization who may be able to help.
"By putting a pause on new application acceptance while we continue to fundraise, we hope to be able to assist all the eligible applicants who are currently in our system," said Haasarud.