Savage and Cooke distillery, founded by Dave Phinney, officially repurposed the Savage and Cooke distillery early March to transition into hand sanitizer production for donation and to help aide in the shortage of availability within the surrounding community and cities.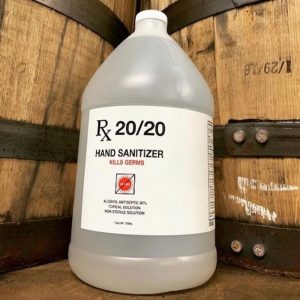 Today the hand sanitizer is available for online purchase anywhere in the United States by the gallon ($38.40) or (4) 9 oz bottles ($22.00).
The hand sanitizer is produced at Savage and Cooke distillery, located on Mare Island, the first naval shipyard on the Pacific Coast. All whiskey production has temporarily ceased and
converted to produce RX 20/20 Hand Sanitizer to aide in the sudden increase in demand for hand sanitizer.
"I am very proud of my staff at Savage & Cooke who sprung into action immediately and
converted our operations from distilling whiskey to producing as much WHO-approved hand sanitizer as possible. We have completely suspended all distillery activities and are 100% committed to helping our community avoid infection. We are doing this at scale –
tens of thousands of gallons to have the most impact," said Dave Phinney, Founder and Owner, Savage and Cooke.
In guidance with the World Health Organization recommended handrub formulations, Savage and Cooke has sourced and procured all necessary elements including partnering with Ultra Pure who has supplied the denatured alcohol, a key ingredient to the World Health Organization formula.
Savage and Cooke initiated its focus and distribution efforts locally to begin with, including
surrounding cities, areas of Napa and Sonoma counties and local health care providers as well as companies such as Ace Hardware, Tesla, and the United States Post Office. They have now expanded ability to produce and fulfill the increased demand for online orders. Additionally, Savage and Cooke has hired local bartenders and restaurant workers who have been furloughed to help with orders and delivery of the hand sanitizer.
Phinney is in conversations with the Mayor of Vallejo, Bob Sampayan, to create hand sanitizer for essential health care workers and charities; Savage & Cooke is also open to discussing larger needs for distribution across the country in states that have been highly impacted.
"We'll do this as long as there's a need, if it's a week then great, if it's a year, it is what it is," said Phinney. "My priority is that we're able do it at a scale where you can make a difference and go all in on that effort."