With its flagship hand scanner designed to protect against the threat of illness, PathSpot Technologies announced a partnership with Taffer's Tavern, which makes its national debut in Atlanta this month as a new restaurant concept from Jon Taffer, award-winning hospitality expert and host of Paramount Network's Bar Rescue. PathSpot hand hygiene systems have also been installed in numerous other eateries in the Atlanta area, including Dantanna's and Chopt Creative Salad Company.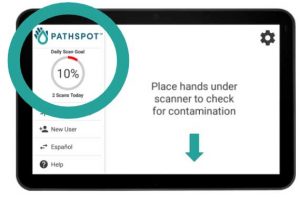 In the era of COVID-19, PathSpot has been recognized as a leader in public health with the world's first real-time hand hygiene management system. The PathSpot Hand Scanner uses light-based detection to provide real-time feedback on the quality and effectiveness of every hand wash for restaurant staff. The scanner delivers results in less than two seconds and if harmful contaminants are detected, team members are instructed to take corrective action to prevent the spread of illness.
"PathSpot works with restaurants to install systems and train staff in order to make them aware of proper hand washing, giving customers peace of mind regarding food safety," said Christine Schindler, CEO and co-founder of PathSpot. "With these partnerships in Atlanta, our monitoring systems continue to become the new normal for safety-conscious restaurants everywhere."
The partnership between PathSpot and Taffer's Tavern was a natural fit into Taffer's Safe Dining System™, Jon Taffer's signature approach to building trust and transparency with patrons by committing to the highest safety standards in food preparation and monitored staff hygiene.
While many restaurants are working to adapt their existing protocols to adhere to pandemic-related safety requirements, Taffer's Tavern is following a new blueprint that builds safety into every aspect of restaurant operations from the ground up.
About Pathspot
PathSpot is the world's first real-time hand hygiene management system, protecting foodservice operators against the threat of illness and outbreaks with a device that scans employee hands to identify the presence of harmful contamination in less than two seconds. PathSpot customers see an average 3x increase in handwashing and reduce instances of contaminants by 75% within just 30 days. The patented PathSpot hand scanner monitors each employee handwash and immediately identifies gaps in sanitation at an individual employee, store, or chain level, delivering clear results through a 24/7 data dashboard and monitoring system. PathSpot was co-founded in 2017 by biomedical engineers Christine Schindler, CEO, and Dutch Waanders, CTO.