The bar uniform may have changed thanks to COVID-19, but many owners are using it as an opportunity to mix up their branding and raise money for the industry.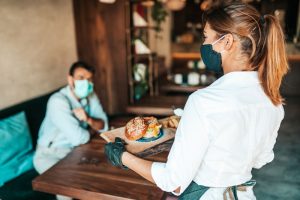 As bars and restaurants explore strategies for keeping staff and customers safe, one thing is certain: face masks are de rigueur for the forseeable future.
Wayne Cimperman, vice president of Foxyware, has been with the company for 15 years, and he's never experienced a disruption like the pandemic. The company offers more than 200 types of apparel and accessories, but currently it has one standout bestseller: masks. "Unfortunately, it's the most popular product in the world," says Cimperman.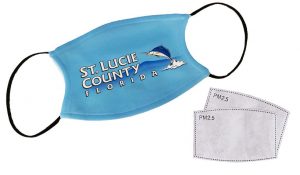 Foxyware was one of the first companies to recognize this as an opportunity. "The face mask is the best advertising in the world," says Cimperman. In many public spaces, they're not optional. Because of their position on the wearer's face, they are visually unmissable. This makes them a uniquely effective branding opportunity.
Bar owners have ordered branded masks from Foxyware to give multiple masks to employees, so that staff always has a clean one to wear on the job. For some, it's now considered an official part of the uniform. Foxyware's masks are completely customizable. Cimperman says, "Some people want to put a message on it. Other people will offer it for sale with their brand to their customers."
Besides distributing branded masks to your own employees, Cimperman has a next-level suggestion: Offer customers a free mask if they happen to forget their own, or give out masks on a certain night of the week. Cimperman says, "Now you're seeing these people around town, walking around as a billboard for you for two to three hours. You look like the good guy because you gave them a mask. That protects everyone. And they're walking around every day promoting your restaurant or bar."
Foxyware manufactures a variety of masks, including a form-fitted, two-ply mask; a two-ply mask with an opening where the customer can insert an additional PM2.5 filter (making it seven-ply); masks sized for children; and a mask with a clear visor window on top to shield the eyes. In addition, the company produces plastic face shields, which can help employees to feel even more protected. Cimperman says, "Some people love wearing the face shield because it's comfortable. Some people wear the face shield with the mask. It's really what they're comfortable with."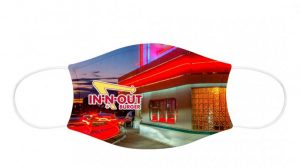 For branded masks, the customer simply sends print-ready artwork to Foxyware, which will email back a digital proof before production.
The masks are printed using the process of sublimation. Unlike screen printing, the ink does not sit on top of the fabric, but is absorbed into it, which keeps the mask breathable. Also unlike screen printing, there is no cost for additional colors. Because costs are so low, some customers have opted to create two masks for different employee uniforms.
Foxyware also sells masks with stock designs, as well as rhinestone and sequin masks. Other COVID-19 related products include neck gaiters, which sell well in colder states. The popularity of the neck gaiter is due to its convenience. Since it rests around the neck, you don't have to worry about forgetting it.
For those who live in warmer states, Foxyware has a new solution: sublimated lanyards. The lanyards have snaps on both ends, which can attach to the elastic ear straps of a traditional mask, making it easy to take on and off without fear of forgetting or losing it. This can become another element of employee uniforms or a thoughtful giveaway for customers.
T-shirts are another way to acknowledge current events with a dose of humor. BarRags Drinkware created a line of shirts called the "COVID sucks collection," and it donates $1 for every shirt sold to help bartenders. The shirts feature slogans such as "It's time to flatten this," and, "We'll drink thru this together."
Kevin Pelz, president and creator of BarRags, says, "Every shirt has the bar's name on the front so the customer can tell everyone that they have been there and they got the shirt. The COVID designs we sold this summer helped make light of a stressful and unprecedented time. All three designs had 'Summer of 2020' on them, so when they are worn in the future, everyone will remember this past summer."
Apparel can provide an additional source of revenue in a time when in-person customers are greatly reduced. In the early stages of the lockdown, Pelz says, "Many bar owners were posting the shirts on their social media outlets and selling them that way."
Some bars purchase shirts for employees to wear, sometimes as part of the uniform. "If your customers see the shirt on employees it results in higher sales," says Pelz.
From the proceeds of the "COVID Sucks Collection," BarRags has donated to the Bartenders' Fund, which is a non-profit created to help pay for educational expenses for bartenders and their families. Due to the challenges caused by the pandemic, the organization shifted a portion of those funds, as well as new donations, to support the immediate needs of the bartending community. BarRags also donates proceeds to the Tavern League of Wisconsin C.H.E.E.R.S. (Communities Helping Empower Employers to Remain Successful) program.
Other players in the industry are also creating merchandise to support hospitality workers. Mover & Shaker Co., which sells bar-themed enamel pins, partnered with The Daily Expo, a satiric news website about the bar industry, to create a unique canvas tote. All tote sales go to Another Round, Another Rally, a nonprofit that provides financial assistance and relief to hospitality workers. Mover & Shaker Co. also sells a special "Hospitality Strong" pin, which benefits the nonprofit.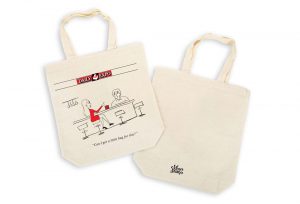 Nick Hogan founded Mover & Shaker Co. three years ago, and since then, it has grown into one of the largest sellers of bar-themed enamel pins, featuring whimsical designs that reference popular culture, puns, and cocktails.
Mover & Shaker Co also sells apparel and accessories, often collaborating with influencers and public figures. A recent example is a collectible stainless steel strainer produced in collaboration with Raekwon of Wu-Tang Clan.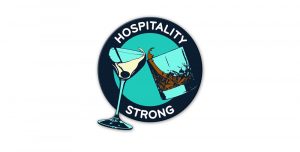 Hogan sees pins as an opportunity for bartenders to share their interests and keep their spirits up, "We love what we're doing, and we want to show that off to our guests. A pin is almost like a tiny little billboard or advertisement. If you have that on your apron, it's a talking point for your guests."
For Hogan, collaborating with and contributing to nonprofits is a way to support the industry he loves. "We're a producer," he says. "We support the bar industry. We saw it as an opportunity to give back."
By Emily Eckart
Photo (top to bottom): Shutterstock.com, Foxyware, Foxyware, Mover & Shaker Co., Mover & Shaker Co.