As restaurants and bars are being shuttered during the COVID-19 crisis spreading throughout the country, they are having to adapt to new ways of staying in business. Some restaurants and bars are turning to two-way radios to make their curbside delivery more efficient.
Two-way radios are a quick and easy-to-use communication tool that bars and restaurants are turning to in order to speed up their food pick-up services while allowing employees to adhere to social distancing guidelines.
Stewart McClintic, Vice President of Sales at HQ98.com, a seller of two-way radios and headsets, said he has seen restaurants turning to this form of communication instead of using cell phones.
"Restaurants are using the radios because using a phone takes up a lot more time," he said. "With a cell phone you have to pick it up, make a call, or send a text. With two-way radios, you can just push a button and automatically be talking to somebody."
Restaurants are using small radios, such as the Motorola and Kenwood brands, as more advanced devices aren't necessary for communication across a restaurant.
"You don't need anything too high tech," McClintic said. "You really just need a radio where you push a button and are immediately talking to someone. Something lightweight and something you don't have to mess with too much."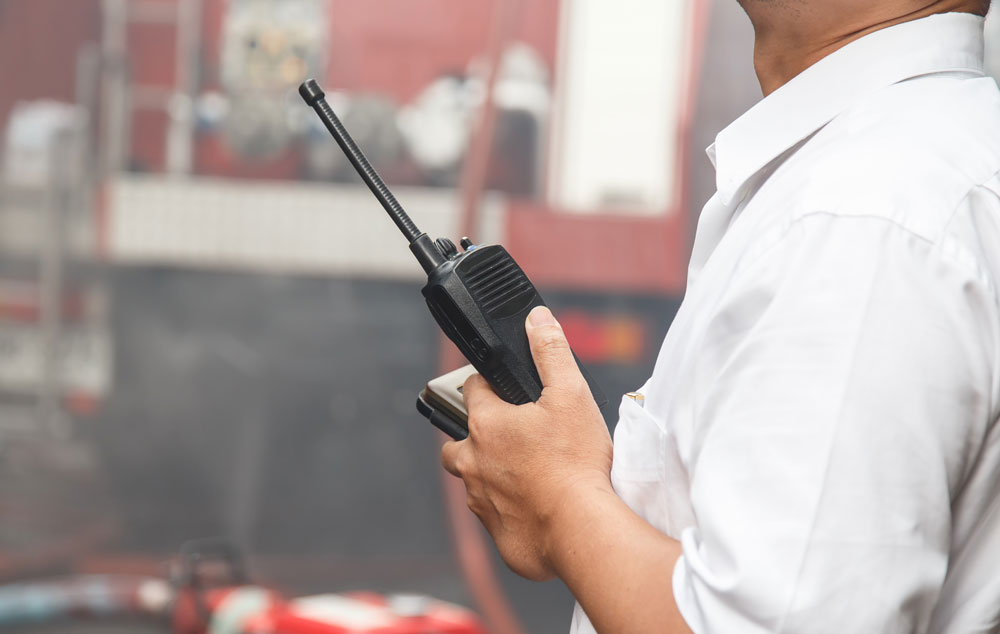 McClintic has been in contact with one of his customers, Shawn Neitzel, who owns Angelo's Pizza in Lakewood, Ohio. Neitzel has told McClintic that the radios are helping to keep the flow of traffic moving and the radios have been the best fit for his business to keep the curb side pick-up process working as smoothly as possible.
"The radios have made it more efficient and instead of having to run around to find the person you need, they are on the other line instantaneously," McClintic said. "For example, say I need to talk to you, and you're two rooms over, but I don't know where you are. I can just use the radio and find you quickly and that helps with the speed and efficiency of the serving process."
At Angelo's Pizza, each employee has a radio in order to communicate but maintain social distancing in the process of going about their work.
"The way Angelo's is using the radios is by having the kitchen communicate with the servers to let them know an order is ready, but it allows there to be little to no human interaction or physical interaction, which is important right now," McClintic said.
Bars are using two-way radios in much the same way in order to practice social distancing.
"Depending on local laws and what a bar is allowed to do, the radios can serve the same purpose as food sales," McClintic said. "I know there are some bars that are allowed to make cocktails to go and some breweries that can still fill growlers or get you a six pack of beer and deliver it to the curb for the customer."
The curbside service at bars is much the same as restaurants serving customers food for take-out. The two-way radios are an easy line of defense for these establishments to maintain social distancing while still getting their customers the drinks and food they want. The only difference is they are taking these items home instead of sitting on a barstool or in a booth.
As more businesses are shutting down every day, restaurants and bars, where it is possible, are able to stay open with takeout and delivery services and this allows employees to keep receiving paychecks. The radios are providing a safer way to do business and are allowing for the recommended six-foot distance rule to be in effect.
Neitzel told McClintic that he plans to use the radios more and more after the COVID-19 crisis begins to fade.
"I think they are a great tool for businesses to use if they are looking to keep their revenue up and keep their employees safe at the same time," McClintic said.
By Joey Hancock, a freelance writer in Phoenix, Arizona. He is an experienced journalist having covered politics, business, education, entertainment and sports for multiple publications. Joey reported on the Monument Fire that ravaged southern Arizona in 2011, and has interviewed governors, senators, and other politicians during the election season of 2014. He has also reported on large engineering projects such as the renovation of Phoenix International Raceway and the building of illegal cross border tunnels. Joey received his Bachelor of Arts in religious studies from Arizona State University and M.Div. from Liberty University. He is also currently working on a second master's degree in counseling. In his free time, Joey enjoys collecting vinyl records, cooking, riding his mountain bike, and gaming. Twitter: @joey_hancock.