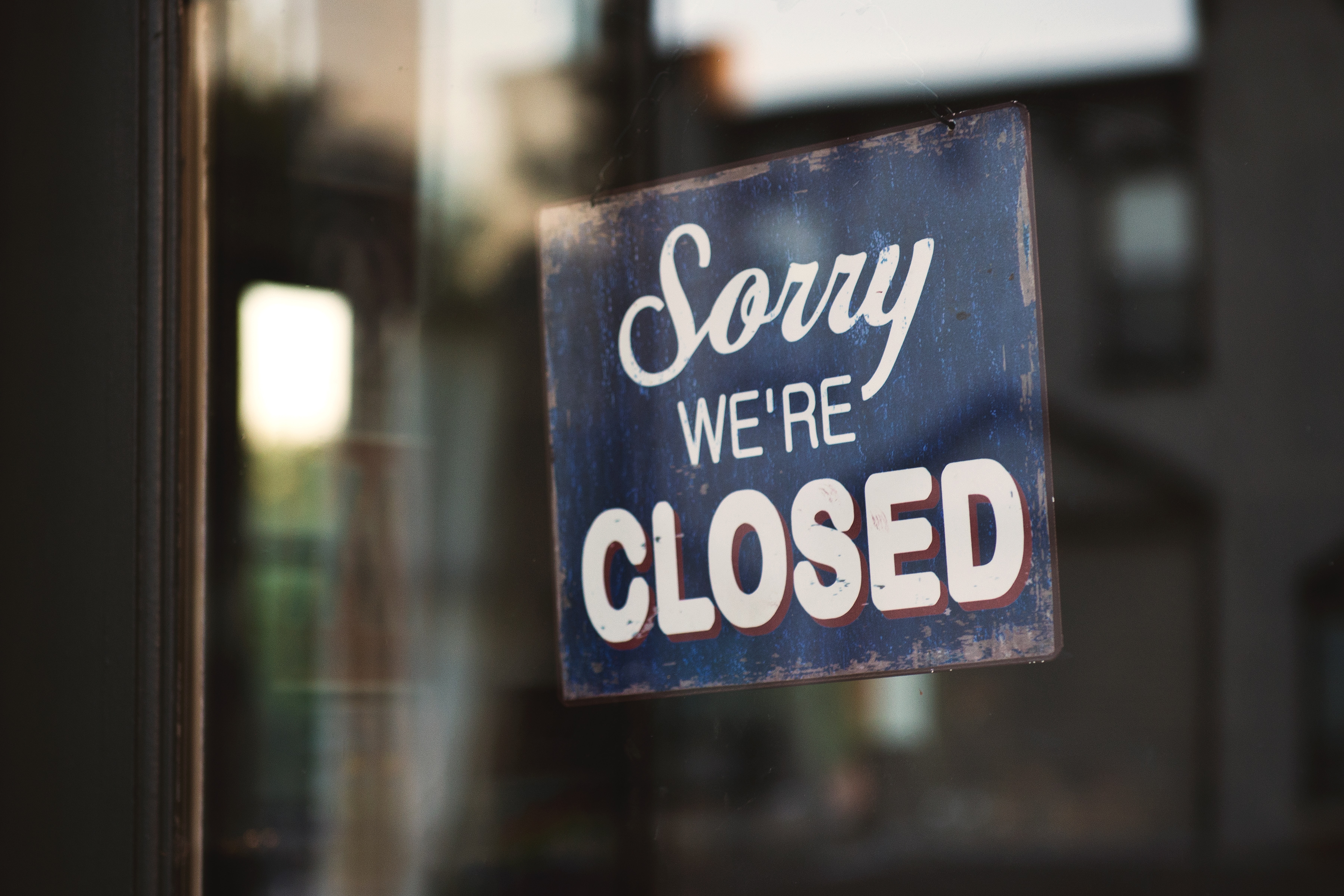 COVID-19 has spread across the United States, quickly disrupting daily life with the closing of bars and restaurants and while this has an effect on the food industry, there is also a trickle-down effect impacting businesses associated with these establishments.
The economy is being impacted daily by the pandemic and as restaurants are being ordered to close dining areas and move to takeout and delivery only, the industry is taking a major financial hit. These closures, while hurting restaurants, are also hurting businesses that work with and for the restaurants from cleaning companies and restaurant financiers to home rental companies. 
Local Business Effect
Brad Pierce, owner of OSA Specialized Cleaning, is one of the businesses that the trickle-down effect of restaurant closures has affected.
Pierce's commercial ceiling tile cleaning and high dusting services are no longer needed as dining rooms close-up-shop.
"I go out and clean restaurants and restaurants are closing," Pierce said. "They [restaurant owners] don't know how long it's going to last and they are conserving cash, so they are waiting to see what happens and once they get back open and people start coming in they'll have more cash, and they will give me a call."
Pierce has had to change his way of doing business. Restaurants are some of his largest clients, and now that these businesses are closed, he has had to shift his focus to other industries that are still open for the moment.
"We have a few beauty salons, a pet boarding place, so we are doing non-restaurant stuff and that seems to be going okay, but the restaurants are really tightening their grip," he said.
Cleaning companies are just one industry sector that is being affected by the closure of restaurants. Other industries such as financial institutions are also being affected and this is having an impact on business owners and individuals who may be seeking a loan or other financial help during this pandemic.
Overall Economy
The overall economy has taken a major hit over the past few weeks with the stock markets falling and people saving money instead of going out to restaurants and other entertainment venues.
John Waters, president and owner of Waters Business Consulting Group, LLC, describes these impacts on the economy with the term "velocity of money." The slowing of this velocity affects the economy.
"There is what economists call the 'velocity of money,' which is the speed of money exchanging hands for commerce," Waters said. "This requires the interaction of employees and customers, and when those two no longer interact, the commerce stops."
When the velocity of money begins to slow, and as it continues to slow, more businesses will close and part of the issue behind the slowing of the velocity is social distancing being called for by the government.
"The reason restaurants are shutting down is they are trying to create this social distancing," Waters said. "That helps to minimize the interaction between human beings because that is what transfers the virus. However, this slows the transfer of money, or commerce, and this slows business and the economy."
As it's currently unknown as to when restaurants and businesses will be able to reopen, the economy will continue to be impacted.
"The economy is driven off of a lot of key factors, and one of those factors are people's emotions," Waters said. "That's why you'll see surges in what's happening in the economy or why the stock markets are overreacting due to the fear of the unknown. So much of the economy can be influenced by an emotional aspect driven off of psychology."
The generational aspect of this pandemic is also a key factor that is impacting how people are reacting to the current situation.
"The younger population has never experienced something like this," Waters said. "I have gone through a stock market crash in 1987, the dot com bubble, September 11th, the recession in 2008, so these world and economic events don't generate a lot of fear for me and others who have similar life experiences. However, this event is certainly unprecedented, and when you haven't experienced it, you have no comparison or perspective so fear sets off emotional responses, which negatively influence the economy."
Businesses need to prepare for the long haul as the virus is still spreading and restaurants may be closed for a long period of time. Once businesses begin to reopen, the economy will slowly repair itself as money is put back into the system. The velocity of money will then return to normal and people will be able to begin getting back to the normalcy of their daily lives. But this still may be a ways off.
"The truth in my opinion, is we are two, three, four weeks, not necessarily returning to normal but beginning to start the process of getting back to normalcy," Waters said. "If people hadn't responded to the authorities' recommendations of social distancing in the ways they have, then the spread of the virus would be exponential and would be affecting the economy for months. So, we're all better for taking precautions now to shorten the health and economic impacts so we can get back to doing business and life."
Financing Opportunities

Bobby Barnes, Executive Vice President of Scottsdale Private Lending, has seen the effect of Coronavirus on restaurants first hand.
"I was talking to a friend of mine who owns a bar, and he said he doesn't know what he's going to do because he has to sell booze to pay his bills, his rent, his mortgage, his lenders," Barnes said. "With the government saying, 'don't go to restaurants and spend money,' that industry is going to be pretty crushed."
With restaurants closed, owners and lenders are in a difficult position since the restaurants aren't bringing in revenue.
"Lenders can't lend on something that doesn't have a solid base of revenue," he said. "If I were a lender lending on a restaurant, and I hadn't funded the loan yet, and this was going on, I probably wouldn't fund the loan."
This doesn't mean that lenders aren't still responsible for loans that have already been funded as they still have the responsibility of funding those loans. If a restaurant owner was in the process of seeking a loan from a financial institution, then the process may be halted until the pandemic has eased and businesses begin to reopen.
"I think if financing hasn't already gone through then those places are probably going to be put on hold," Barnes said. "I think it's going to be just sitting and waiting to see what happens."
The issue with not being able to procure a loan is putting the development of restaurants into a holding pattern, but restaurant owners should discuss their options with their lenders if they aren't able to make payments.
"I think they should call their lenders and make them aware of their situation," Barnes said. "Some restaurants are probably going to have more savings than others. Some are living paycheck to paycheck and others can cushion the storm a little bit but they should just call their lender and let them know they are worried they might not be able to make their payments."
Effect on Workers and Suppliers
The trickle-down effect of restaurants closing affects all aspects of the business and not just the aspect of serving food to customers.
For example, when we go to a restaurant to order a hamburger, there is someone who is cooking the burger, someone ordering the buns and the meat, someone who has a bill that needs to be paid, and restaurants aren't going to be able to pay their suppliers. With this happening, they aren't able to order food, and as things get back to normal, companies and lenders are going to need to give everyone a bit of a break to get back on their feet, Barnes said.
Restaurant closings are also having effects on all of the workers in these establishments. The owners are being forced to lay off workers, and these workers, cooks, servers, dishwashers, etc. are feeling the brunt of the impact because they are losing much-needed paychecks to pay their rent and other bills.
"I know a woman who is a constable who puts tenants out if they don't pay their rent, and she has a lot of landlords calling and asking her what to do because they have tenants who pay on time and they are cooks and restaurant workers and they're going to lose their jobs," Barnes said. "She tells them she doesn't know what to do but it's better to have someone in the house than not because they are at least trying to find a way to pay the rent."
People who are having issues paying their rent are being told to contact their landlords and discuss possible payment plans or other ways in which to pay off their rent over time.
By Joey Hancock, a freelance writer in Phoenix, Arizona. He is an experienced journalist having covered politics, business, education, entertainment, and sports for multiple publications. Joey reported on the Monument Fire that ravaged southern Arizona in 2011, and has interviewed governors, senators, and other politicians during the election season of 2014. He has also reported on large engineering projects such as the renovation of Phoenix International Raceway and the building of illegal cross border tunnels. Joey received his Bachelor of Arts in religious studies from Arizona State University and M.Div. from Liberty University. He is also currently working on a second master's degree in counseling. In his free time, Joey enjoys collecting vinyl records, cooking, riding his mountain bike, and gaming. Twitter: @joey_hancock.