Tecate® returns with its Claim Your Corner retail promotion during August and September,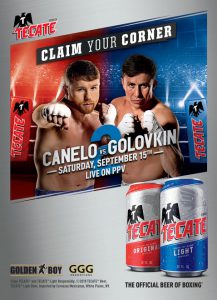 leading up to the highly-anticipated rematch between two of the top fighters in the world.
The championship boxing bout between "Golden Boy" Canelo Alvarez, and his opponent Gennady "GGG" Golovkin is set for September 15th –Mexican Independence Day—and raises the stakes following the 2017 bout between the two that ended in a draw. This on- and off-premise promotion captures all the excitement of the ultimate showdown as it engages boxing fans and beer drinkers gathering for every fight to decide who will run the ring, Tecate in hand. The event will be televised worldwide as a pay-per-view event on HBO and will be held at the T-Mobile Arena in Las Vegas.
Tecate continues its long-standing support for boxing and its most exciting, high profile bouts between some of the world's most renowned fighters. "The viewership and attention these fights attract and the brand's association with the sport have had a tremendous impact on consumer engagement and Tecate® sales," says Gustavo Guerra, Tecate Brand Director. "The fights and the passionate fans who support them have expanded share of voice, trial and awareness." Passion for boxing comes together with passion for Tecate® to make this a truly unique and exciting program for the retailers who support it and the consumers who participate. "Boxing fans spend 9% more on Tecate® during Tecate® boxing promotions[1] and Tecate® consumers are more likely to watch sports on TV versus other leading Mexican imports[2]", continues Guerra. "Because Tecate® buyers are 2x more likely to be fans of boxing than the average U.S. household[3], the 'Claim Your Corner' promotion will drive sales and engage shoppers when the brand and the boxing thematic are united at retail."
"Claim Your Corner" is a fully integrated marketing program that works on multiple levels to drive consumer engagement and sales. Fight thematic POS for display merchandising will drive awareness and participation in a sweepstakes that gives consumers the chance to win one of 5,000 pay-per-view streaming codes or a boxing glove signed by Canelo or GGG. A cross-merchandising partnership with Jose Cuervo® tequila, sampling events (where legal) and tie-ins with on-demand delivery services will help drive sales for the at-home viewing occasion. In addition, a $40 pay-per-view MIR and IRC offers on Tecate® and Jose Cuervo® (where legal) will accelerate consumer pull, and always-on Facebook and Twitter support will drive traffic as well. To bring Tecate fans closer to the action, the proprietary Bold Punch app with a new augmented reality (AR) feature will deliver the latest boxing info, exclusive videos, fighters' bios and stats, and tips on how to watch the upcoming fight. Tecate cans and bottles will serve as AR triggers ensuring consumers have easy access to the experience. On-premise, there will be bar takeovers with all things red and blue to represent Tecate. From corner-specific swag, to dual-sided coasters, consumers can show their pride and passion by representing their color.
"With high-reach traditional and social media, impactful channel specific activation, and a bout that promises to be a blockbuster, 'Claim Your Corner' covers all corners to provide a unique opportunity to maximize sales," says Guerra.
[1] Nielsen FanLinks 2016, March- last week in September 2016, Households 21+, Boxing Fan Avidity – 4-7
[2] Nielsen Spectra 2017, Total U.S.
[3] Nielsen FanLinks Survey 2016, January-December 2016/Boxing Fan Avidity – 4-7.