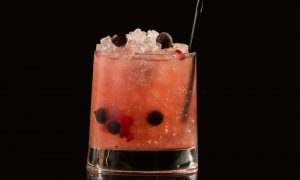 Ingredients:
2 oz. Brockmans Gin
1 oz. Lejay Lagoute Triple Sec
0.75 oz. Lemon juice
1 oz. Cranberry juice
1 bar spoon of allspice dram
Directions:
Shake all ingredients together in an ice-filled cocktail shaker; strain into a tumbler of crushed ice layered with frozen winter berries then top with a little more crushed ice. Garnish with a few more frozen winter berries.
Courtesy of Brockmans Gin.