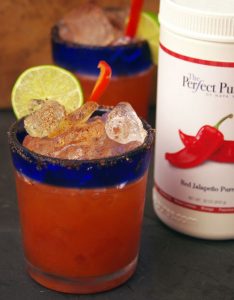 Ingredients:
1 1/2 oz. Tequila Cazadores Blanco
3/4 oz. Orange Curacao
3/4 oz. The Perfect Purée Red Jalapeño Puree, thawed
3/4 oz. lime juice
1 oz. simple syrup
Directions:
Combine all ingredients with ice. Shake, and serve on the rocks with a chili salt rim. Garnish with lime and a red jalapeño slice.
Recipe by Manny Hinojosa. Photo Courtesy of The Perfect Purée.