Tanteo Tequila, the only distillery owned by its cooperative of agave farmers, announces the launch of a new limited-edition, seasonal expression, Tanteo Navidad. The brand's first-ever aged offering, Navidad is an ultra-premium Añejo tequila rested for 18 months in American oak barrels, then hand-infused with pequin chilis, nutmeg, clove, cinnamon, ginger and cocoa beans. 10% of all profits from the sale of Tanteo Navidad go towards
Un Salto Con Destino, a charity providing essential medical services to underprivileged members of Tanteo's Mexican community.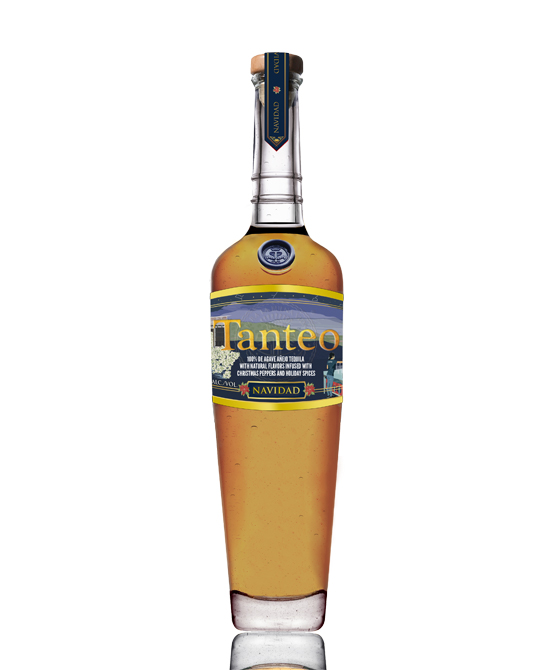 Tanteo has been committed to community revitalization since their inception. Prior to the Tanteo Tequila distillery's arrival, Juanacatlán had fallen on difficult times, with residents often having to travel long distances to find work and support their families. Tanteo Tequila's presence has not only made employment increasingly available and accessible, it has also enabled many women to join the workforce, many for the first time in their lives. Roughly 80% of the Tanteo Tequila distillery's workers are female, with a particular emphasis on hiring single mothers and widows.
Tanteo uses estate grown Blue Weber Agave raised in the fertile soils and subtropical
climate of Jalisco's Cienega region, located in the southeast of the Tequila Lowlands and west of the Tequila Highlands. Unlike other spirits that simply add flavor, each Tanteo Tequila is made by infusing fresh ingredients by hand, whether local peppers for their Jalapeno, Chipotle and Habanero tequilas, or pequin chilis and cocoa with seasonal spices for Navidad.
"We're so proud to release Tanteo Navidad this holiday season, especially after so many people weren't able to fully celebrate with friends and family last year. Navidad is the perfect spirit to share with company — it makes a great eggnog with lots of flavor and just a hint of spice," says Master Blender and CEO, Neil Grosscup.
Tanteo Navidad will be available exclusively on their website in November (SRP: $59.99). It can be enjoyed neat or in a variety of cocktails including these recipes.