Compass Box Whisky is delighted to punch up the peat in its latest release of its limited edition Scotch whisky: No Name, No. 3 (48.9% ABV, $130 SRP). This final creation in the No Name series brings a new smoky experience to the trio with 10,794 bottles available worldwide from spirit retailers beginning November 1. This new blended malt whisky would make the ideal festive gift for any enthusiast or collector.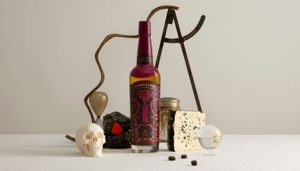 "No Name was not intended to become a series, but we have thoroughly enjoyed showcasing different heavily-peated malt whiskies within a consistent recipe structure," says John Glaser, Compass Box founder and whisky maker. "The interplay of smokiness between all three blends is completely different, showing that peat is far from one-dimensional. No Name, No. 3 showcases a rich intensity that makes it vibrant and expansive, with a wild yet graceful peatiness. No Name, No. 3 completes a compelling trilogy, and we are excited for fans of this style to try it."
A big-boned and peaty whisky, No Name, No. 3 boasts richness and tropical characteristics. Bottled at 48.9% ABV, this final expression is based around malt whisky from the Laphroaig Distillery, aged in recharred hogsheads. Compellingly waxy, fruity and sooty malt whisky from the Bowmore Distillery supports this. Fruity and silky unpeated malts, and a little of the Compass Box Highland Malt Blend, complete the composition.
The result is a blend with an intense rendition of seashore smokiness, backed by baked pear and pineapple notes. Aromas and flavors reminiscent of the patisserie and the smokehouse make for a rewarding and complex experience. James Saxon, lead whiskymaker for No Name, No. 3, recommends enjoying it neat alongside a full bodied blue cheese.
The label, designed by Stranger and Stranger, lends itself to the season with bold and contrasting colors reflective of the dramatic array of flavors within the whisky, making it an artful addition to any home bar this holiday season.