Bully Boy Distillers presents the third and final spirit in its innovative rum series, The Rum Cooperative. A full–bodied and classic Caribbean–style rum comprising premium rums sourced from four prominent regions – Panama, Dominican Republic, Brazil, and Barbados – Volume Three exhibits an exceptional blend of complex flavors and aromas that make it perfect for sipping straight or on the rocks. As an extension of Boston's premier craft distillery, the third volume amplifies co-founders Will and Dave Willis' passion for experimenting with diverse rum flavors and crafting their own compelling, artfully blended expressions.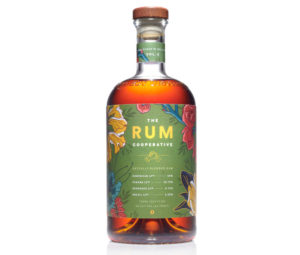 "Since releasing our award–winning Volume One and Volume Two, we are thrilled to complete the series with this third and final blend," said Will Willis, co–founder of Bully Boy Distillers. "At 92 proof, Volume Three works beautifully not only as a sipping rum, but also as a rum that can elevate spirit forward cocktails. We couldn't be prouder of this spirit that rounds out our entire collection, and we can't wait for folks to enjoy the final addition."
To complement the defining earthy and fruity notes of the first two volumes, Volume Three evokes warm and tropical flavors. A blend of 12–year pot–stilled and column–distilled rums, the Panamanian and Dominican Republic rums provide the main structure with notes of crème brûlée, vanilla, custard, and honey. The addition of Brazil and Barbados rums add complexity and elegance, reminiscent of old–world brandies. Whether enjoyed on the rocks or straight in smaller quantities, Volume Three features an aroma profile of stone fruit, sugar cane and rich flavors meant to be savored. The bottle's vibrant label, which features illustrations of the national flower of each region represented in the blend, further accentuates the lush and tropical flavors of the spirit.
"We created The Rum Cooperative collection to give rum drinkers the opportunity to join us in our pursuit of exploring unique, compelling and exciting spirits," said Dave Willis, co–founder and head distiller of Bully Boy Distillers. "Volume Three is our interpretation of the flavors we've discovered from these expert rum-making regions over the years and is the finishing touch on a series that's been a labor of love."
Priced at $38.00 SRP for a 750ml bottle, The Rum Cooperative Volume Three is 46% alcohol by volume and joins Bully Boy's diverse portfolio of handcrafted spirits at restaurants, retailers, and bars beginning May 2022 in Massachusetts, Rhode Island, Connecticut, and Maine with nationwide shipping via the Bully Boy website to come June 2022.