After more than four decades of making some of the world's finest bourbon, legendary Master Distiller Jim Rutledge is throwing his hat into the rye whiskey ring. High Plains Rye Straight Rye Whiskey is set to hit stores this summer and is sure to be a new favorite among whiskey connoisseurs.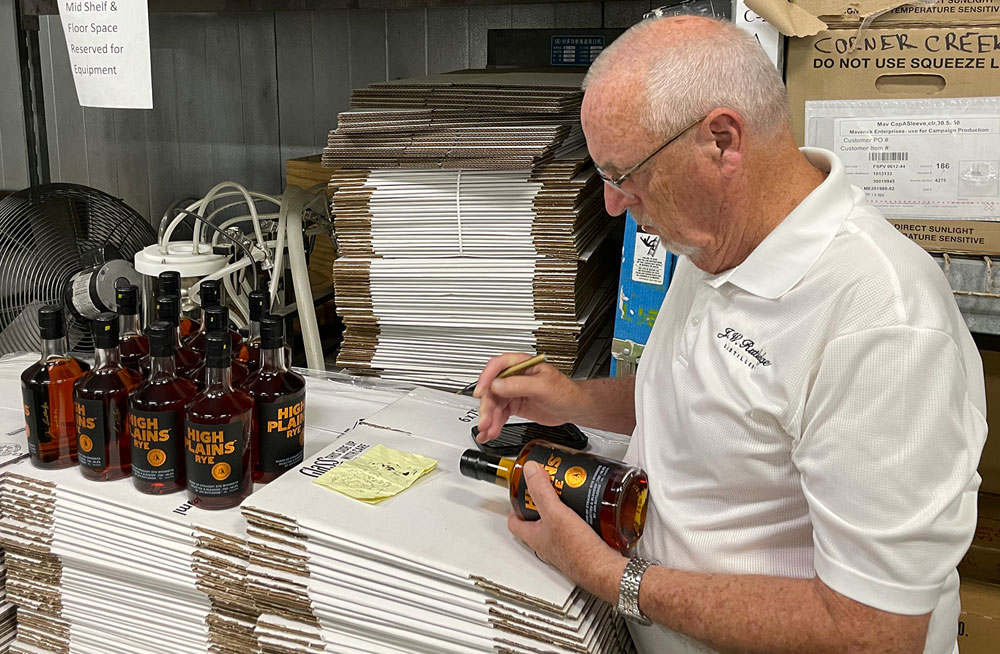 The J. W. Rutledge Distillery team has been working on High Plains Rye for more than a year. This multi-state blend includes five straight rye whiskeys from four states – Indiana, Kentucky, Ohio and New York (listed alphabetically). Each straight whiskey used in High Plains Rye has its own unique recipe—varying from 51% rye grain to 100% rye—and yeast strain. This generates a very distinct flavor profile and weighs in a 48.5 ABV.
"A lot went into the selection of the whiskies that we use for this blend," said Master Distiller Jim Rutledge. "I've wanted to do a rye for a long time, but I wanted it to be something unique. By combining these five different recipes, we created a really nice straight rye whiskey that is gentle on the palate with a nice, smooth finish."
Whiskey fans are sure to be excited about this new offering from Rutledge. Here is a compilation of tasting notes from Jim and several other whiskey connoisseurs letting consumers know what to expect:
When first nosing High Plains Rye, the mellowness of the four-year-old whiskey is quite apparent. Light spicy notes of allspice, nutmeg and white pepper are noticeable in this unique multi-state whiskey. Hints of cinnamon, brown sugar and butterscotch also present themselves. The whiskey changes slightly to persimmon fruit, light caramel and rye grain when a couple chips of ice are added. When sipped, persimmon is found mid-palate along with a gentle hint of cayenne pepper. There are also notes of soft vanilla bean, yet the rye stays assertive. The relatively short finish, which is typical of younger whiskeys, is surprisingly very gentle with a nice dry quality. Enjoy a taste of this new rye whiskey straight-up or with a splash of cold water or ice. Rye whiskey lovers will be amazed.
Rutledge retired from Four Roses Distillery several years ago, but his "never say never" passion and enthusiasm for the bourbon and rye whiskey industry continues to flourish. Starting with Cream of Kentucky Bourbon and now continuing with High Plains Rye, Jim shows no signs of slowing down and continues to have the same drive and passion for whiskey as when he first entered the industry.
High Plains Rye will be release in 24 states across with U.S. with plans to expand distribution in the future. It will retail for approximately $54.95 and should hit shelves in late July.