India's first-ever homegrown, luxury vodka, SMOKE LAB VODKA, debuted in the U.S. last fall. Distributed by India's NV Group, SMOKE LAB VODKA Classic and SMOKE LAB VODKA Aniseed are manufactured one batch at a time at a state-of-the-art distillery and crafted with locally sourced superior-quality Basmati rice, a crop indigenous to the brand's native country.
Bar Business Media chatted with the Founder & CEO Varun Jain about the new brand, vodka trends, and what's next for SMOKE LAB.
Bar Business Media (BBM): What makes SMOKE LAB VODKA different from other vodka selections? How does Basmati affect the flavor?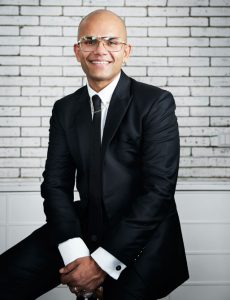 Varun Jain (VJ): SMOKE LAB VODKA is homegrown in India. It is crafted with pure Himalayan spring water and locally sourced superior-quality Basmati rice, a crop indigenous to our native country.
Basmati rice was chosen because of its distinctive crisp, pure flavor, and unique floral aromas and because Basmati is intrinsically linked to our homeland. The Basmati we select is cultivated in close proximity to the distillery to ensure maximum freshness and to support our local farmers. Every bottle of SMOKE LAB VODKA is 100% free of contaminants and presents the purest vodka drinking experience achievable.
BBM: You also offer an ANISEED Vodka. What led you to develop this specific flavor?
VJ: We are extremely proud of our ANISEED Vodka. It showcases one of many distinct flavors of our country, and we are very excited to bring it to consumers throughout the U.S. It is an all-natural playful exploration of a much-loved Indian herb with refreshing notes of fennel and licorice finishing with a creamy sweetness and delicate fennel blossom note on the palate. It is extraordinarily smooth and creamy, making it the perfect complement in classic and complex cocktails. SMOKE LAB ANISEED showcases the first of many amazing flavors of our country.
BBM: Any advice for how bartenders can best use SMOKE LAB VODKA in cocktails?
VJ: We want bartenders to know that SMOKE LAB VODKA is highly versatile making it a great choice for mixing up popular classic and contemporary cocktails while also offering an exciting new palette for creating cocktails that highlight the distinct flavors of India. We encourage professional and at-home bartenders alike to have fun mixing up cocktails with a range of ingredients that highlight our vodka's unique flavor profiles, from premium mixers and juices to fresh herbs & spices, seasonal fruits & vegetables, and creative garnishes.
BBM: Have you observed any vodka trends recently?
VJ: Vodka remains the king of spirits. For all the press surrounding some trendier categories, vodka still accounts for about one-third of spirits volume nationwide and growing. The COVID-19 crisis served to strengthen vodka's reign as retailers across the country report customers reaching for the versatility of vodka. As a result, we are seeing more consumers and bartenders seeking out quality vodkas that offer a great story and, of course, taste of something unique.
We are also seeing the return of flavored vodkas but not the old "flavored vodkas" made with sugary, artificial ingredients. Today's modern consumers are connecting with brands that employ all-natural ingredients that offer new, bold, and innovative flavor experiences such as our SMOKE LAB ANISEED.
Finally, consumers are increasingly selecting brands that operate in an eco-friendly, sustainable manner. At our SMOKE LAB manufacturing facility in Rajpura, we produce our own energy with renewable resources, achieving a zero/neutral carbon footprint. We utilize ultra-modern sparkle filtration resulting in a responsibly produced, ultra-pure spirit that consumers are eager to embrace, and we source all ingredients from within India and support the sustainable farming and sourcing of basmati rice, water, spices, and packaging materials. Our vodkas are gluten free, vegan, and kosher.
BBM: What's next for SMOKE LAB?
VJ: Making SMOKE LAB VODKA is a passion and journey that will continue – we are preparing to launch additional flavors, including Saffron later this year, that showcase India's finest quality ingredients and skilled craftsmanship on the world stage.
BBM: Do you have a favorite recipe using SMOKE LAB VODKA you could share with our readers?
VJ: There are so many great ways to enjoy SMOKE LAB VODKAS. We have been working with mixologists and enthusiasts to develop a range of unique cocktails that beautifully highlight our vodkas and evoke the spirit and flavors of India. Here is one of our summertime favorites:
Summer Aniseed Mule

2 parts SMOKE LAB ANISEED Vodka
½ part Blue Curacao
¾ part fresh lime juice
Ginger beer
Combine all ingredients in a mule cup or mason jar filled with ice. Garnish with a mint sprig, orange wedge and cherry.