Bardstown Bourbon Company, the award-winning modern whiskey distillery, tested five regional winners from across the country to determine whose bourbon palate was superior at the World's Top Whiskey Taster Finale in Bardstown, Kentucky, the "Bourbon Capital of the World" and hometown of the Bardstown Bourbon Company. Ultimately, Michael Outcalt from Aurora, Colorado took home the Title.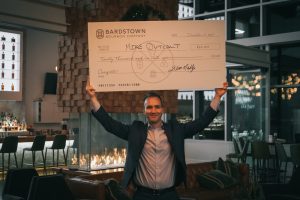 "It is an incredible feeling that I simply can't describe.  I didn't know whether to run, scream, cry or dance.  It was truly a magical moment," Michael Outcalt, winner of  the 2021 World's Top Whiskey Taster competition. " I felt that the gauntlet of challenges was well-rounded and, as always, Bardstown Bourbon Company showed us unrivaled hospitality from the moment we stepped foot in Bardstown Kentucky. The competition had everything, great food, great competitors, celebrity judges and, of course, world class whiskey."
The World's Top Whiskey Taster competition flipped the traditional alcohol competition on its head. Instead of challenging mixologists to create interesting cocktails, Bardstown challenged competitors, chosen from an open casting call, to identify various whiskeys by their distinct traits in a blind taste test.
Mr. Outcalt not only won the title of "World's Top Whiskey Taster," but also a $20,000 cash prize, a full scholarship to Moonshine University and the opportunity to make his own bourbon blend.
The competition was judged by a panel of bourbon experts, including:
Peggy Noe Stevens – First female Master Taster, Entrepreneur and Author
Fred Minnick – TV Show Host, Editor, Curator and Author
Colin Blake – Creator and Managing Director of Stave & Thief Society
Steve Nalley – Master Distiller, Bardstown Bourbon Company & Bourbon Hall of Fame Member
Matt Porter – 2020 World's Top Whiskey Taster Champion