Ingredients: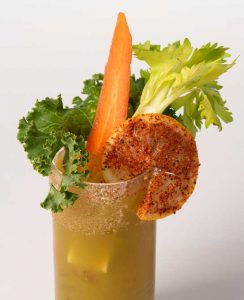 2 oz. Seagram's 100 Proof Vodka
1⁄2 oz. Puréed Spinach
1⁄2 oz. Green Tomato Juice
1⁄2 oz. Carrot Juice
1⁄2 oz. Lemon Juice
1⁄2 oz. Aloe Vera Juice
1⁄2 tsp. Minced Garlic
Cubed Ice
Directions:
Rim a highball glass with celery salt and fill the glass with ice. Combine all ingredients in the glass over the ice and stir with a bar spoon. Garnish with a celery stalk, sliced carrot, parsley, cucumber, and lemon rounds and an edible flower.