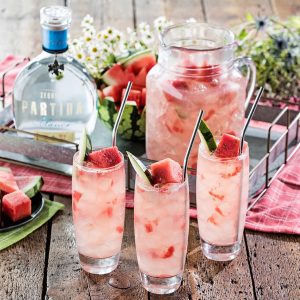 Ingredients:
2 cups Partida Blanco Tequila
9 oz agave nectar
9 oz fresh lime juice
2 cups ginger beer
12 pieces of watermelon cubes
Directions:
Shake equal parts Partida Blanco, agave nectar, fresh lime juice. Strain into a pitcher over ice and top with ginger beer. Add watermelon cubes. Serve and garnish with watermelon cubes and a rind.