Fresh fruits and vegetables characterize the tastes of summer, and what better flavor to add to a cocktail than watermelon?
Below, we've compiled some watermelon-focused cocktail recipes centered around this summer favorite to help you celebrate National Watermelon Day this Monday, August 3.
1800 Silver Summer Sangria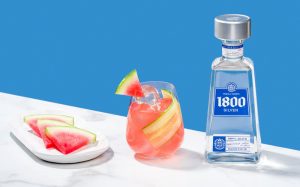 Ingredients:
1 oz 1800 Silver Tequila
3 oz rosé
.25 oz fresh lime juice
.5 oz simple syrup
3 cubes watermelon
Directions:
Muddle watermelon, shake and strain over ice cubes in a stemless wine glass. Top with rosé and stir gently to combine. Garnish with cucumber-wrapped inner glass and watermelon slice.
Recipe and photo courtesy of 1800 Tequila.
​​​
Grilled Watermelon Margarita
Ingredients:
1/2 cup fresh grilled Watermelon
1 ounce fresh squeezed Lime Juice
¾ ounce Agave syrup – adjust to your taste
2 ounces Blanco Tequila
1 cup of Ice
Directions:
Add all ingredients to blender on high speed. Rim glass with Twang-A-Rita Sunrise spice or your favorite Twang salt. Pour into your rimmed glassware and enjoy!
Recipe courtesy of Aaron Pena, owner/bartender at The Squeezebox in San Antonio, Texas.
​
Watermelon Sugar High Cocktail
Ingredients:
1 1/2 oz Mezcal Machetazo Espadin
1 oz OM Meyer Lemon Ginger Liqueur
1/2 oz Lemon
1 cup of Watermelon pieces
8 blueberries
8 Mint leaves
1 dropper of Infuse Ginger Bitters
Sugar rim:
1 tsp confectioner's sugar
1 tsp salt
1 tsp Cayenne Pepper
Directions:
Place the mint leaves in a mixing glass or tin, muddle the mint. Add the watermelon and blueberries and muddle until the fruit is broken down. Add the Mezcal, OM Meyer Lemon Ginger Liqueur, lemon juice and Ginger Bitters with ice and shake. Mix the Sugar rim ingredients together and wet the rim of your glass of choice with some lemon juice and then coat the rim with the mix. Strain the cocktail into the glass and garnish with mint. You can also choose to garnish with watermelon candy and blueberries, as pictured.
Recipe courtesy of Clair Mallett, OMbassador, Organic Mixology (OM)
Featured photo by Elaine Bernadine Castro from Pexels