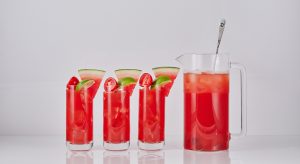 Ingredients:
6 oz DeLeón Platinum Tequila
4 oz Watermelon Juice
12 Cherry tomatoes on Vine
4 oz Lime Juice
4 tsp Agave
Directions:
Mull 12 cherry tomatoes in a shaker. Blend 10 – 12 pieces of watermelon or 1 oz of watermelon juice into shaker. Add in remaining ingredients and pinch of salt. Shake, strain, and pour over ice into a pitcher. Serve in rocks glass and garnish with a lime wedge and tomato. Makes 4 servings.