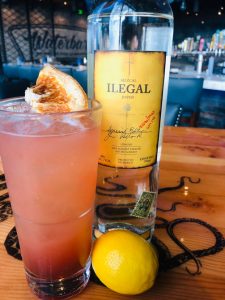 Ingredients
1.0 oz. Illegal Mezcal
.25 oz. Cherry Heering (float)
.5 oz. Lemon juice
.5 oz. Grapefruit juice
.5 oz. Agave
1.0 oz IPA (recommend Elysian Space Dust IPA)
3-Dashes Peychaud's Bitters (in bottom of glass, before ice)
Directions:
Add Peychaud to empty Collins glass, then add ice. Build all other ingredients, excluding Cherry Heering, in shaker tin, with ice. Light shake and strain into a Collins glass over fresh ice. Float Cherry Heering and garnish with dehydrated grapefruit wheel.
Recipe courtesy of Waterbar