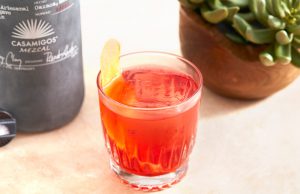 Ingredients:
1 oz. Casamigos Blanco
1 oz. Campari
1 oz. Italian Sweet Vermouth
Casamigos Mezcal Rinse
1 Large Orange Peel
Directions:
Combine all ingredients into a glass mixer. Add ice and stir quickly for 30–40 seconds. Strain into a rocks glass that has been rinsed with mezcal. Add one large block of ice and garnish with a large orange peel.
Photo and recipe courtesy of Casamigos.