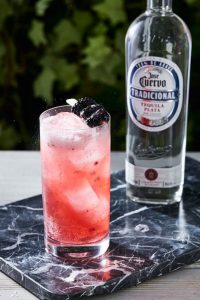 Ingredients:
1.5 oz Jose Cuervo® Tradicional® Plata Tequila
.5 oz Simple syrup (one part sugar, one part water)
.5 oz Tonic syrup
3 Lime wedges
Blackberries
Soda water
Glass: Collins
Garnish: Blackberries
Directions:
Add all of the ingredients, except the soda water, to a shaker and fill with ice. Shake, and strain into a Collins glass filled with fresh ice. Top with soda water and garnish with blackberries.
Recipe and photo courtesy of Jose Cuervo.