Fall officially starts on September 22, but why not have your bar menu start early by adding one or two of these fall cocktail recipes. We've rounded up everything from tea recipes to cider recipes to get your guests in the fall spirit.
Black Widow Tea
Ingredients: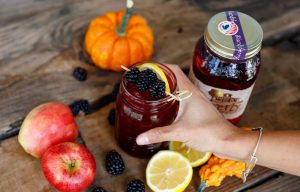 1.5 oz. Original Sweet Tea Vodka
1.5 oz. Lemonade
Splash of Blackberry liqueur
Directions:
Combine all ingredients over ice in a rocks glass. Garnish with a lemon wheel or blackberry.
American Social's Kentucky Vacation
Ingredients: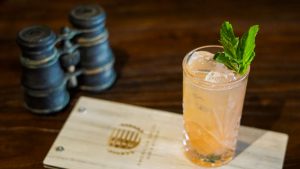 1 ½ oz. Knob Creek Bourbon
1 oz. Real Guava Puree
1 oz. Lime Juice
½ oz. Triple Sec
Directions:
Build in mixing tin: whiskey, guava, lime juice and triple sec. Shake, strain over fresh ice. Garnish with mint sprig.
PLANTA's Charcoal Bourbon Sour
Ingredients: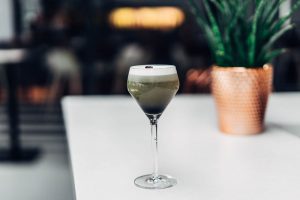 2oz Bourbon
1oz Charcoal Syrup
1oz Lemon Juice
1oz AquaFaba
Directions:
Combine activated Charcoal Syrup: sugar, water, activated charcoal powder. Combine with ice in a shaker and shake vigorously. Strain and then dry shake to create foam.
Images: HERE, HERE
Photo and recipe by PLANTA.
Wassail
Ingredients: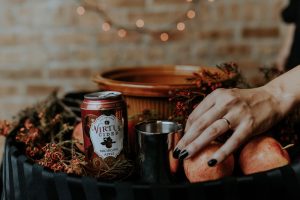 Mulling spices (you can either place these in a cheesecloth bag, or keep them loose):
1 cinnamon stick
2 whole cloves
1/4 tsp grated nutmeg
pinch cayenne pepper (optional)
1/4 cup brown sugar
1 whole allspice
1 juniper berry
Cider:
4 cups Virtue Cider Michigan Apple
2 cups non-alcoholic cider
a bit of your favorite spirit (whiskey, rum, brandy, etc.)
Garnish: Apple Slices
Directions:
Heat all ingredients in a saucepan, but take care not to boil. Add any spirits with the heat source off. Ladle around the spices and serve in your favorite mug. Garnish with apple slices.
Passoã Sangria
Ingredients: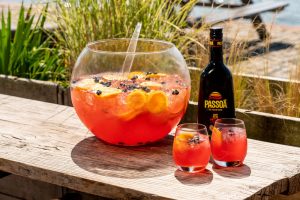 1 part Passoã
2 parts rosé wine
Fresh oranges and berries
Directions:
Mix over ice in a pitcher. Don't have a pitcher? No problem. Use whatever you have at hand, as long as it's big!
Image and recipe courtesy of Passoã.
Coffee Old Fashioned
Ingredients:
1 part Galliano Espresso
1 part Rye Whiskey
Dash orange bitters
Directions:
Place one large ice cube into rocks glass. Pour all ingredients on top. Mix with a bar spoon. Cut orange zest, spritz and garnish in the drink.
Image and recipe courtesy of Galliano.