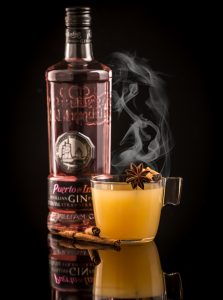 Ingredients:
0.75 oz. cloudy apple juice
1.25 oz. water
1.25 oz. Puerto de Indias Strawberry Gin
1.5 oz. tonic water
0.2 oz. gomme
Directions:
Put all ingredients into a metal jug and use a coffee machine milk wand to steam the liquid till warm. Pour into glass, garnish with a cinnamon stick and 1 star anise.
Recipe and photo courtesy of Puerto de Indias Gin.