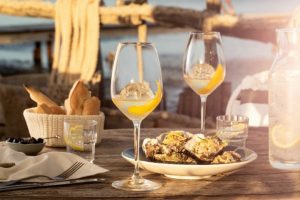 National Oyster Day is Wednesday, August 5th. This beloved delicacy is the ultimate summer indulgence, and while travel and dining opportunities remain limited, that doesn't mean your venue can't offer a food and drink pairing that is sure to bring your guests right to the south of France, stateside.
Try pairing fresh oysters with a Noilly Prat cocktail, the original French Vermouth made by the sea.
Noilly Prat has a long-held association with the sea, as its unique outdoor aging process is inspired by the transportation of wines on the open decks of sailing ships. In its hometown of Marseillan, France, it's tradition to serve the vermouth alongside fresh oysters from the neighboring village of Bouzigues. It's no wonder that the flavor of Noilly Prat Original Dry pairs perfectly with the sweet and briny flavors of an oyster. If you can't get your hands on Bouzigues oysters – not to worry – a Noilly Prat cocktail pairs perfectly with your preferred variety on the half shell.
L'Aperitif Original Dry On Ice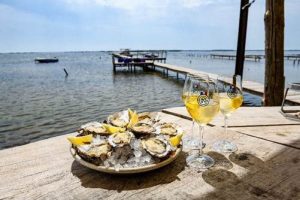 Ingredients:
2.5oz Noilly Prat Original Dry
1 Twist of lemon
Ice Ball (or large ice cubes)
Directions:
Pour Noilly Prat Original Dry over ice and stir once. Squeeze the lemon peel over the glass to release its essential oils. Garnish with the twist of lemon. Serve alongside six fresh oysters for the traditional southern French tasting experience.
Recipe and photo courtesy of Noilly Prat.