It's officially the unofficial start of summer! As your bar dusts off the outdoor patio furniture and gets ready for the summer months this Memorial Day Weekend, think about adding some of these refreshing recipes to your menu.
Check out this collection of Memorial Day cocktail recipes, below!
Basil Hayden's Bourbon Boulevardier
Ingredients: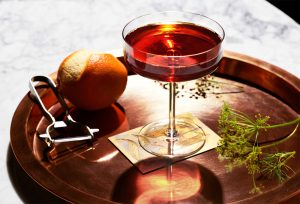 1 part Basil Hayden's® Kentucky Straight Bourbon Whiskey
3/4 part Aperol® Aperitif
3/4 part Dolin® Rouge Sweet Vermouth
Orange peel
Directions:
Combine all ingredients in a mixing glass with ice. Stir until cold. Strain liquid into glass and serve up or with a large ice cube. Garnish with an orange peel.
Pineapple Twist
Ingredients: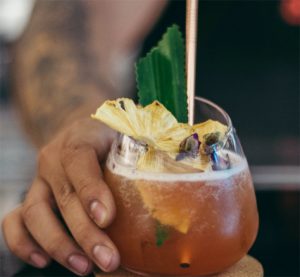 2 ounces Seagram's Pineapple Vodka
4 ounces Soda Water
Lemon/lime wedge for garnish
Directions:
Pour Seagram's Pineapple Vodka into glass over ice. Add soda water to top. Garnish and enjoy!
Watermelon Mint Refresher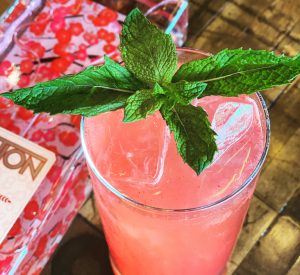 Ingredients:
1-1.5 cup of fresh watermelon pieces
1 oz. simple syrup
.5 oz fresh squeezed lemon juice
8 mint leaves
1.5 oz Deviation Citrus Rosé Gin or your favorite gin
Soda water to top
Directions:
Add the watermelon and mint leaves to a shaker glass and muddle until all the watermelon juice hasbeen released. Add simple syrup, lemon juice and Deviation Citrus Rosé Gin along with ice to the shaker. Shakevigorously for 30 seconds. Double strain into a Collins glass,filled with ice and top with a splash of soda water. Garnish with a fresh mint leaf.
Peach-Cranberry Cooler
Ingredients:
2 ounces Seagram's Peach Vodka
4 ounces Cranberry juice
Directions:
Pour Seagram's Peach Vodka into glass over ice. Add Cranberry juice to top. Garnish and enjoy!
Recuerdo Mezcal Blues
Ingredients: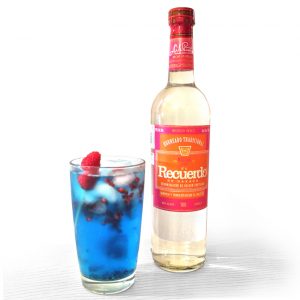 1 1/2 oz Recuerdo Joven Mezcal
1 oz blue curacao
1/2 oz lime juice
1 oz mint syrup (1 cup water, 1 cup sugar, 2-3 bunches fresh mint. Simply heat the water, sugar, and mint to a gentle boil and reduce to a simmer for 1-2 minutes while stirring. Pull off the heat and allow to sit for 30-60 minutes to infuse the mint. Cool and strain the mint.)
5 fresh raspberries
Tonic water
Directions:
Muddle a couple of raspberries with the Mezcal, lime juice and syrup, serve in a old fashioned with ice, add the curazao, fill with tonic water and top with 3 fresh raspberries to garnish.
Smooth Operator
Ingredients: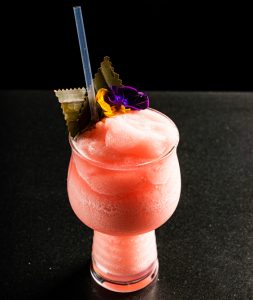 2 oz. Miso-Infused Genever
1 oz. The Perfect Purée Lychee Puree, thawed
1 oz. sudachi & lemon juice blend
3/4 oz. raspberry falernum
3/4 oz. orgeat
2 cups crushed or pebble ice
Directions:
Blend ingredients with ice in a blender on high speed until smooth. Pour into a chilled goblet. Garnish with banana leaf and viola flowers.
Recipe by Chanel Godwin-McMaken / Lead Bartender, Little Rituals, Phoenix, AZ; Photo by Little Rituals.
Coconut Negroni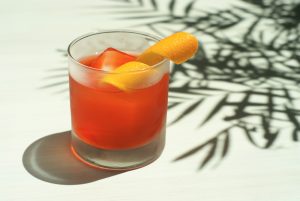 Ingredients:
1 oz Bimini Coconut Gin
1 oz Campari
1 oz sweet vermouth
Directions:
Stirred, served over a large cube, garnished with an orange twist.
Recuerdo Lilly Mezcal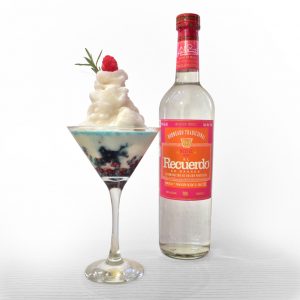 Ingredients:
1 1/2 oz Recuerdo Joven Mezcal
2 oz cream of coconut
1 oz blue curacao
1 dash evaporated milk
5 fresh raspberries
1 small piece of ginger
Directions:
In a martini glass, muddle 2 raspberries with the curacao and 3/4 oz of Recuerdo Mezcal. Mix the cream of coconut, the evaporated milk, the ginger and 3/4 oz of Recuerdo Mezcal in a blender with plenty of ice, to the consistency of ice cream. Serve this mix on top of what we muddled in the martini glass, and garnish with 3 raspberries on top.
Bees Knees
Ingredients: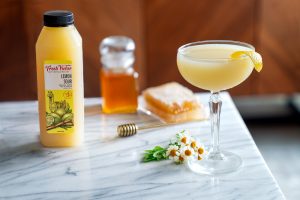 3 oz Fresh Victor Lemon Sour
1.5 oz Gin (London Dry or other style)
1 oz 1:1 Honey syrup*
Directions:
Shake well with ice and serve up. *To make honey syrup, add an equal amount of hot water and honey in a container and stir until the honey is dissolved.
Recipe by H. Joseph Ehrmann (Elixir, San Francisco).
Island Thyme
Ingredients: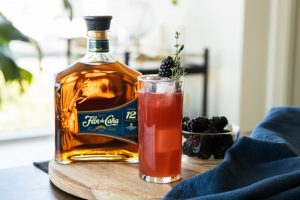 2 Parts Flor de Caña 12
4 Blackberries (muddled)
½ Part Orgeat
3 ½ Parts Ginger beer (preferably something dry and spicy like Fentiman's or Fever Tree)
1 Part Lime juice
3 dashes Black Walnut Bitters
Glass: Highball
Directions:
Shake & Strain, pour into iced highball Garnish with blackberry and thyme.
Recipe by Sebastien Derbomez, William Grant & Sons Brand Advocacy Manager.
The Peel Deal
Ingredients: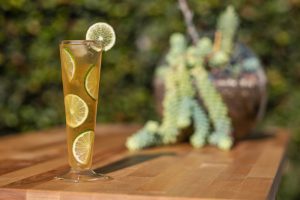 1.5 oz Uncle Nearest 1856 Premium Whiskey
3-4 Lime Wedges
0.75 oz banana peel & cinnamon syrup
Coconut sparkling water
Lime wedge or wheel
Directions:
In a Collins glass, muddle lime wedges, banana peel & cinnamon syrup and Uncle Nearest 1856. Add ice and top with coconut sparkling water. Stir to mix, garnish and enjoy.
Recipe by mixologist Kim Stodel, Los Angeles. Photo by Jon Santer.
Tropical Mimosa
Ingredients: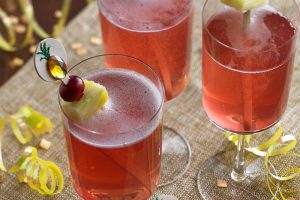 2 1/3 cups Ocean Spray® Cran·Pineapple™ Cranberry Pineapple Juice Drink, chilled
1/2 cup coconut flavored rum
1 (750ml) bottle champagne or champagne-style wine, chilled
Directions:
Mix juice drink and rum. Fill champagne flutes about half full of juice mixture. Top off with chilled champagne. Serve immediately.
Recipe created by Ocean Spray.
Arctic Rickey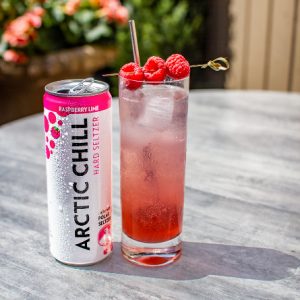 Ingredients:
¾ oz Gin
½ oz Lime Juice
½ oz Simple Syrup
6 Fresh Raspberries
4-6 oz Raspberry Lime Arctic Chill
Directions:
Shake Gin, lime juice, simple syrup, and 3 raspberries over ice. Strain over fresh ice in a tall glass. Top with Raspberry Lime Arctic Chill. Garnish with 3 more raspberries (optional).