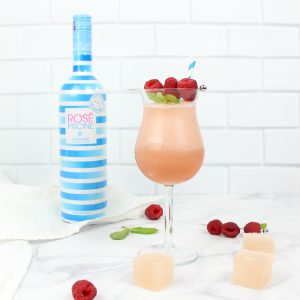 Ingredients:
1 Bottle of Rosé Piscine
1 Canned Lychee
1 Grenadine Syrup (optional)
Ice Cube Molds
Directions:
Pour Rosé Piscine into ice cube molds and freeze for six hours. Place ice cubes in blender, and add 1 cup of Lychee syrup. Add 1 tsp of grenadine. Blend, decorate with red berries, and enjoy!
Courtesy of Rosé Piscine.