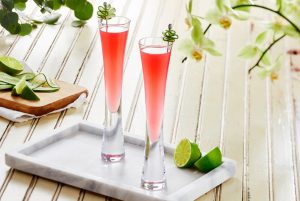 Ingredients:
1 ½ parts FACUNDO NEO Rum
¾ parts Hibiscus Syrup
½ parts Cucumber juice
¾ parts Fresh Lime Juice
½ parts Martini Bianco
Directions:
Add all ingredients to cocktail shaker with ice. Shake vigorously. Serve in a chilled Champagne glass, and garnish with an elegant cucumber twist.
Courtesy of FACUNDO Rum.